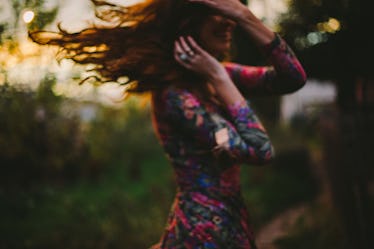 These 3 Zodiac Signs Will Thrive During This Month's New Moon In Scorpio
New moon, who dis? No, but really, how are my dearest stargazers and children of the cosmos feeling? Did we really just tackle October? It all feels like a blur, if you ask me. Now, before I forget, these three zodiac signs will have the best new moon in Scorpio, and it's about time, too: Cancer, Scorpio, and Pisces. That's right, water signs take the reins this season. I mean, did you honestly expect any different? As a matter of fact, shoutout to my fellow water babies for surviving such a wild Libra season. Now, raise your hand if you've been personally victimized by Venus Retrograde.
Alright, enough with my Cancer pity party. Let's talk about the magical new moon in Scorpio, as it will be taking place on Wednesday, Nov. 7 at exactly 11:02 a.m. ET. Now, I'm sure you're wondering, what can we expect during this lunation? For starters, new moons are a symbol of new beginnings, so make sure you're familiar with the energy of Scorpio, before you set your intentions. Also, this might sound strange, but then again, this is why Scorpio is so incredibly complex. Its essence will never fall under a particular category, as there is no meeting halfway with this energy.
So, with that being said, ask yourself the following: What parts of me am I ready to let go of? Which areas of my life have I already outgrown? Use the energy of Scorpio to release, and regenerate. Nevertheless, here's why the water signs will thrive during the Scorpio new moon:
Cancer: You're Having A Great Time
This exciting energy for you, Cancer babe. The new moon in Scorpio will light up your flirtatious fifth house of fun, romance, and creative expression. Stop lying to yourself. What are you afraid of? What's stopping you from embracing your artistic gifts? What inspires you? How can you get those juices flowing? Remember, Scorpio energy is all or nothing. It's intense, and heavy with mood. Use this energy wisely, so that you can really harness your creative expression. Let your true colors shine through, whether it be romantically, or with fun and playful activities. You will be as bold as ever throughout this potent lunar phase.
Scorpio: You're Shedding Layers
Happy birthday, Scorpio. There's a sparkling new moon in the sky, and it's all yours. This is your solar revolution, and while Jupiter concludes its journey through the underworld, along with Venus and Mercury, the sun and the moon continue to work in your favor. The new moon brings new beginnings to your first of self, personality, and physical appearance. This is a time to release, and regenerate. So, don't be afraid to rid yourself of both the physical, and mental parts of you, that no longer go hand in hand with the new you. Light a candle, and set those intentions.
Pisces: You're Taking Risks
Are you ready to go back to school? What about that long-distance journey on your bucket list? Whatever the case may be, this is your chance to venture out into the unknown. The new moon in Scorpio, aka your sister sign, lights up your expansive ninth house of travel, higher learning, and personal philosophy. The new moon's like, "Hey! Don't you think it's about time you have a little faith?" Granted, the energy of Scorpio is anything but subtle, but you've never been more ready. Are you ready to channel your inner Indiana Jones? Don't hold back. This powerful lunation will bless you with opportunity, adventure, long-distance travel, and most importantly, a brand new philosophy. This is YOUR journey.