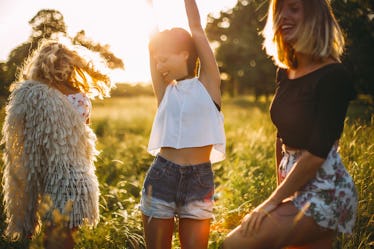 These 3 Zodiac Signs Will Thrive During Libra Season 2018 & Here's Why
Libra season is around the corner, and we've all got that summertime sadness. Well, maybe not all of us, considering there are two types of people in this world: those who prefer summer over winter, and vise versa. However, these three zodiac signs will have the best Libra season 2018, so get ready to ring in the Autumnal Equinox: Aries, Libra, and Aquarius. FYI, by no means am I saying that the rest of the zodiac won't have a charming Libra season, so don't get it twisted, stargazers! I am simply stating the facts of the cosmos, and sharing the good news with you all.
So, if you happen to have any personal planets (sun, moon, Mercury, Venus, ascendant or rising) in the signs mentioned above, you're in for an invigorating Libra season. There's a lot happening with the cosmos, as per usual, and I want to give you a quick cosmic synopsis of what's to come this season. For starters, there will be an incredibly potent full moon in bold Aries on Sept. 24 at 10:52 p.m. ET, shortly after the Equinox. Then, on Sept. 30, powerful Pluto goes direct in Capricorn, and this will definitely create an interesting shift in the atmosphere. Are you ready for it?
With that said, here's why Aries, Libra, and Aquarius are about to slay Libra season:
Aries: Self-Love And Plenty Of Love To Go Around
With the sun traveling through your seventh house of relationships, partnerships, and other people in general, you're in the mood for some serious one-on-one time, as you're attracting a number of partners, and prospects. Trust me, you'll want to take full advantage of the cosmic love. The full moon on Sept. 24 puts the spotlight on you, and we all know how much you love that. Although, make sure you don't go overboard with your passions, as full moons tend to stir up our emotions, and bring things to the light.
Gorgeous Venus is also in the mix, traveling back and forth (retrograde on Oct. 5 - Nov. 16) through your sexy eighth house of intimate union, and other people's money, putting your intimate relationships in the forefront. Single rams could suddenly start a steamy romance with a soulful connection; others might finally get that extra cash they've been waiting for.
Libra: It's Your Solar Return And You're Dazzling
Happy birthday, Libra! No one is taking off your crown this season, I guarantee it. With the sun traveling through your sign, you are simply dazzling. The full moon in Aries on Sept. 24, illuminates your seventh house of partnerships, bringing you some much-needed closure, and I know you're not a big fan of confrontation, but hashing things out is always a good thing, right?
Your ruling planet Venus is traveling back and forth (retrograde on Oct. 5 - Nov. 16) through sultry Scorpio, and your second house of income, values, and self-worth. Ha! As if you needed more reason to feel yourself this season. Although, there may be something the cosmos are trying to tell you, in terms of your self esteem and who you are at your core. Don't deny who you are, Libra. You're beautiful inside and out.
Aquarius: You're Feeling Like Yourself Again
Lord knows it hasn't been easy for you this month, Aquarius. However, lucky for you, things are looking good for Libra season. With the sun traveling through your expansive ninth house of travel, higher learning, and foreign lands, you could decide to take a leap of faith, and start a big venture, or perhaps plan a trip somewhere exotic.
The full moon in fiery Aries on Sept. 24, lights up your chatty third house of siblings, communication, and social media. You're totally booked this season, Aquarius, so don't bite off more than you can chew. You'll regret it later, trust me.
Venus, planet of love and beauty, is spreading the love through your ambitious tenth house of career and destiny in the world, too. So, pay attention to your feels during this time, as Venus will retrograde on Oct. 5 through Nov. 16, which will ultimately push you to re-evaluate your career moves, and reputation in the world. Nevertheless, you will be extra charming to the public during this time, so keep that in mind.