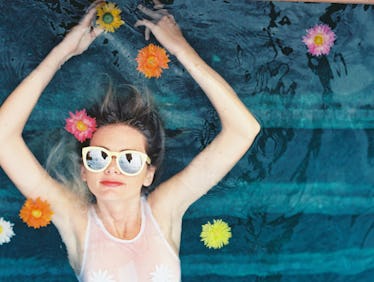 These 3 Zodiac Signs Shine In The Summer, So Bust Out Your Sunglasses
Summer is around the corner, which means it won't be long before Geminis, Cancers, and Leos start celebrating their birthdays, and their sign's planetary trip around the sun. In case you weren't aware, these zodiac signs love the summer time. Interestingly enough, fellow Gemini-Cancer cusp Lana Del Rey was born during the summer solstice, and I honestly can't remember a time when she's not singing about hot summer nights, mid July or hip-hop in the summer. Then again, she also got "Summertime Sadness" stuck in our heads, not to mention "Diet Mountain Dew" with her heart-shaped glasses. Is it totally obvious that I'm obsessed with Lana Del Rey? Anyway, I digress.
In astrology, the sun is considered the most important planet, as it represents our ego and soul purpose. It also symbolizes our will and vitality; it energizes our entire natal chart. Every year, about two days before our birthday, the sun returns to its natal position: ergo, the term "solar return." When this happens, our energy automatically reboots, almost as if it were a cosmic rejuvenation. Given that the sun is Earth's primary energy source, the moment the sun enters a zodiac sign, those who are born under this sign will automatically be in the spotlight, literally.
If your zodiac sign made the cut, you're in for a real treat this summer. As for the rest of you, bring your sunglasses.
Gemini: You're Feeling Yourself And Your Credit Card
Your birthday season might've come to end, but that doesn't necessarily mean the fun is over, too. On the contrary, with the sun shining over your second house of money, possessions and self-worth, you're feeling extra confident about yourself and what you have to offer.
You're in the splurging mood, and you can't help the fact that you're radiating with self-confidence. You know what you bring to the table, Gemini. The solar eclipse on July 12 will also light up your money zone. Eclipses bring a significant amount of change, and this one in particular will involve your finances and core values. Cha-ching!
Cancer: You're Sparkling With Utter Joy
Happy solar return, Cancer! The spotlight is on you, and you are simply dazzling. This is your cosmic rebirth and your authentic charms are as prominent as ever. Venus, planet of love and beauty, is pouring her magic love potions in the area of your chart related to income, possessions and values. This energy increases your sense of security and overall self-esteem.
Mercury, the messenger, joins her on June 29, bringing you closer to your five senses. Sit back, indulge in a delicious meal, and light one of your favorite scented candles. Soak in the pleasure of simply being you. It doesn't end there. The solar eclipse on July 12 will also touch your sign. Solar eclipses bring significant change and new beginnings. Are you ready for your cosmic close-up, Cancer?
Leo: You Put The Fab In Fabulous
Leo, you are luscious. Your birthday is around the corner, and the cosmos are already showing you so much love. Can you feel it? Venus, planet of love, relationships, money and beauty, is dazzling your sign until July 9. Let's face it: You were born for the spotlight, and this energy enhances your fabulous vibes and sparkling charisma. The solar eclipse on July 12 will light up the area of your chart related to karma and behind-the-scenes work. Eclipses bring a significant amount of change, and this one in particular will involve your karmic gains and innermost secrets. The sun enters your sign on July 22 and well, let me put it this way, everyone will know it's your birthday. Slay, Leo babe.