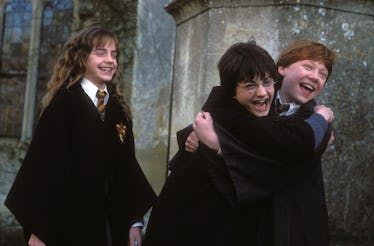 5 Thanksgiving Movie Marathons To Watch With Your Family Over The Holiday
Warner Bros Entertainment
It is, by every stretch of the imagination, actually the best time of the year. While Christmas Day might take the cake for some holiday fanatics, I think we can all agree Thanksgiving is the true star. The entire day is designed for eating, napping, and reflecting on the things you're grateful for. It's also dedicated to one of man's best creations — the movie marathon. There are so many 2018 Thanksgiving movie marathons airing out there that are sure to tickle your fancy. Worst case scenario, if you're of the I-hate-quality-time-with-my-family-everyone-drives-me-nuts camp, I've got you covered.
Here is the tricky part of choosing your movie marathon: Whatever you decide on, you need to fully commit. That's the whole point of a marathon. So, make sure you pick a genre/actor/plotline you can dive into for hours on end. Secondly, plan your food breaks now. If you know Thanksgiving dinner is at a certain time, aim to watch your least favorite film in the period right before you eat. This way, you'll be ready for a break and happy to dive back in once you're full of carbs and sugar.
Lastly, make sure your chosen Thanksgiving fam agrees. Nothing is worse than preparing for a day of cinematic delight and having your cousin Sarah take a dump on your favorite scene.
With all of this in mind... here are some of your options.
The Harry Potter Series
Airing beginning Wednesday at 8:30p.m. until Thursday at 11p.m. on Syfy
Yer a wizard, Harry!
Obviously, you can't go wrong with the HP series. When in doubt, everyone can get into a coming-of-age tale with a side of magic and a healthy dose of Dame Maggie Smith (a.k.a. Professor McGonagall for you young ones out there). Plus, it's family friendly, which means Grandma and your little nephew or niece can enjoy it with you.
Accio green bean casserole!
The Godfather Trilogy
Airing beginning Thursday at 9 a.m. until Friday at 6 a.m. on AMC
Say hello to your Thanksgiving friend.
I personally love the idea of a Godfather marathon because I've almost certainly never seen one entire movie from beginning to end, nor have I caught any of the films in the correct order. For many, this classic tale full of drama, action, murder, and mystery pairs perfectly with sweet potato mash.
Gone With The Wind
Airing beginning Thursday at 6 a.m. until Friday at 2 a.m. on Sundance
Frankly, my dear, I don't give a damn.
Really, I don't. This 238-minute classic has never been on my personal radar, but that doesn't mean the rest of the planet isn't totally obsessed with it. It's technically just one long movie, but the length will certainly make it feel like a marathon. In my case, a movie like this is the perfect flick to put on to induce a nap while my mom fiddles away organizing napkin holders and my dad angrily hangs up Christmas lights. To each their own, y'know?
The Hunger Games
Airing beginning Friday at 12p.m. until Saturday at 2a.m. on TNT
If you volunteer as tribute to watch this trilogy, it's gotta be the day after Thanksgiving.
You can catch J. Law rule the actual world all day on Friday, Nov. 23, while you chow down on leftovers and nurse your spiked cider hangover. You really can't go wrong choosing to watch truly gorgeous young people take down the bad guys, and Katniss' intense training to kill off her competition might help motivate you to set some early New Year's resolutions.
National Lampoon Movies
Airing beginning Friday at 12 p.m. until midnight on AMC
It's a Griswold family Christmas!
Whoops, I mean it's a Griswold family Thanksgiving!
Honestly, what are the holidays without Chevy Chase chasing a squirrel around his living room? If you aren't sure where to turn, what channel or series to commit to, or simply have never seen any of the National Lampoon films, I can not recommend this marathon enough.
In theory, there should be something on this list for everyone. So, preheat the oven, stock up on booze, and settle in. This year (and every year) I'm thankful for great movies and TV.