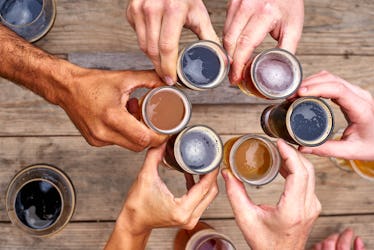 These National Beer Lover's Day Deals Will Totally Save Your Weekend Budget
Friday, Sept. 7 is a national holiday that definitely speaks to a vast majority of the American population. Aside from the fact that it's SNL comedian Leslie Jones' birthday, as well as National Acorn Squash Day (aka also my kind of holiday!), it also happens to be National Beer Lover's Day. And even though my friends and I basically celebrate National Beer Lover's Day every Friday, there are some really sweet deals at various restaurants, stores, and bars, in honor of the holiday. So, raise your glass, and ring in the start of the weekend the right way with these 10 National Beer Lover's Day deals.
Whether you had initially planned on going out tonight, staying in to play boardgames, or hanging with your dog for as long as possible, there are a ton of ways you can celebrate National Beer Lover's Day on Friday. With deals on draft brews, dollars off buckets, and even BOGO Brewscuits for your pup, you can ball on a budget while (responsibly) drinking all types of refreshingly delicious pints (if you're 21 years or older). So, get ready to enjoy a wide variety of discounts and deals, and just remember that you and your wallet can thank me later — hopefully over a nice cold one.