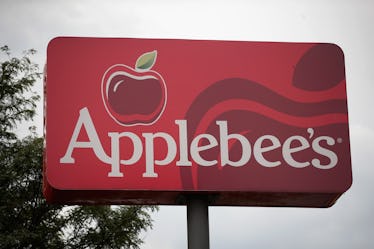 Applebee's $2 Beer Special For September Will Start Your Fall Season Off Right
Scott Olson/Getty Images News/Getty Images
Hold onto your wallets, because America's Neighborhood Grill and Bar is offering a seasonal drink deal that's too good to pass up. Applebee's $2 beer special for September will start your fall season off right. That's correct, for just a couple of dollars you can be sipping on one of autumn's most iconic brews thanks to Applebee's September Neighborhood Drink of the Month promotion.
Stop by any participating Applebee's location during the month of September and you will be able to order a $2 beer, according to the restaurant. The promotion isn't valid on just any beer, though. Until Sunday, Sept. 29, Applebee's patrons can purchase a Samuel Adams OctoberFest for the incredibly affordable price of $2 per beverage. A $2 drink of anything is almost unheard of these days, which makes this promotion from Applebee's an even sweeter deal.
There's nothing quite like a Samuel Adams OctoberFest to make you feel all warm and cozy. OctoberFest is a limited release beer that is made at the Samuel Adams Brewery in Boston. It's definitely one of the seasons top brews. The fall beer is made with a blend of robust malt flavors that will leave your mouth filled with tastes of rich caramel and roasted sweetness, according to the Samuel Adams Brewery. The OctoberFest brew is poured cold and served in a frosty, 10-ounce mug. Basically, it's perfect for those cool and crisp September evenings when you're all wrapped up in a big cozy sweater and ready to kick back and relax with friends. It's a versatile drink choice that is also great even for those parts of the country who can't seem to shake off the incessant summer heat.
This deal won't be around for the entire fall season, though. Applebee's releases a new $1 or $2 drink deal each month, so you can enjoy this one for the next few weeks. Fall doesn't officially kick off until Saturday, Sept. 22, but you can still get a jumpstart on the season by ordering up a $2 Samuel Adams OctoberFest brew. Don't let this promo pass you by. Go ahead and round up your friends and coworkers because this deal from Applebee's is perfect for an after-work happy hour. Just make sure to enjoy this drink deal responsibly and call a ride-share service if you need a lift back to your place. There's no shame in having a good time as long as you do it safely.
There are a few things to know before you go. Applebee's advises you to give your local restaurant a call to make sure they are serving $2 Samuel Adams OctoberFest. Not all locations are taking part in the monthly drink deal. The last thing you want to do is make a plan to go to Applebee's only to find out that specific location isn't serving OctoberFest. The $2 promotion is only valid at participating Applebee's restaurants across the United States.
If your fall travel plans don't include a trip to Germany for the real Oktoberfest, Applebee's $2 Samuel Adams OctoberFest deal is the next best thing. Cheers! (Or prost, as they say in Germany.)