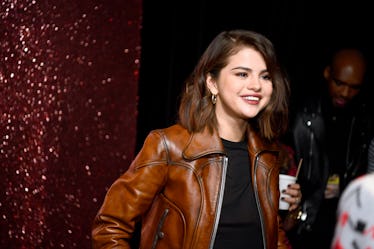 This Theory About Selena Gomez's "Wolves" & "Bad Liar" Proves Her Songs Are Connected
Dave Kotinsky/Getty Images Entertainment/Getty Images
Selena Gomez fans don't miss a thing — I'm convinced. As the world waited eagerly for Selena Gomez's new song "Wolves" to drop, some eagle-eyed fans started to notice something pretty amazing. This theory about Selena Gomez's "Wolves" and"Bad Liar" makes a compelling point, for sure.
The question is, did you spot this already or, like me, did this tiny detail pass you by? It's OK if you didn't see it because internet detectives have done the work for us, pointing out the connection and providing all the proof. Man, I love you all.
First up, some of the "Wolves" lyrics we're all obsessed with:
In your eyes there's a heavy blue
One to love and one to lose
Sweet divide, a heavy truth
Water or wine, don't make me choose
I wanna feel the way that we did that summer night
Drunk on a feeling, alone with the stars in the sky
I've been running through the jungle
I've been crying with the wolves
to get to you, to get to you
I've been down the darkest alleys
Saw the dark side of the moon
to get to you, to get to you
I've looked for love in every stranger
Took too much to ease the anger
all for you, yea all for you
I've been running through the jungle
I've been crying with the wolves
to get to you, oh to get to you
Fans were already feeling the song before it even dropped, but now that it's here, holy hell, these lyrics are everything. So primal, y'all.
So, let's take a look at Gomez's "Bad Liar" video and talk about the connection. Yep... there it is. Gomez is wearing a basketball jersey with the word "Wolves" on it.
Another fan pointed out: "HER F*CKING SHIRT IN BAD LIAR SAID WOLVES WE SHOULD HAVE CAUGHT THIS SOONER! QUEEN OF DROPPING HINTS. SHE HINTED FETISH AND WOLVES IN IT."
If you need a refresher, here's the "Bad Liar" music video:
Could "Wolves" continue with more of the story Gomez was telling in "Bad Liar"? There are theories... oh so many theories, including one fan who tweeted: "Omg wolves.. the new song is called wolves.. is this gonna be a continuation in the story line of Bad Liar??"
Another fan tried to predict more precisely how the videos could be connected, tweeting: "GUYS WHAT IF ITS THE SCHOOL POOL AND ITS A CONTINUATION OF BAD LIAR OMG A CONCEPT. ‪#WOLVES."
Others made the deep dive that maybe Gomez is dropping hints all over the place, with one fan tweeting: "So she was teasing Fetish and Wolves both in the Bad Liar music video. Maybe there's even more hints in the video about the album/other songs."
Here's what Gomez said about "Wolves" recently, telling DJ Zane Lowe in an interview:
This was a song that I heard in Japan for the first time and I was talking to Andrew Watt who is one of the writers who I've worked with for years and he actually just played a rough version and I thought it was really beautiful. He sent it to Marshmello and we ended up talking and created a really cool tone and a story with it. The song is very beautiful and personal and the lyrics just have, you know, a whole story of its own... weirdly at the same time I was working on it in Japan I was going through stuff too, so it's mirrored everything.
What do you think of this "Wolves" and "Bad Liar" fan theory?
Check out the entire Gen Why series and other videos on Facebook and the Bustle app across Apple TV, Roku, and Amazon Fire TV.