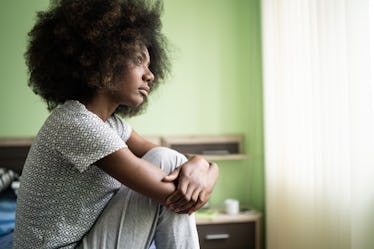 The Sign Most Likely To Break Your Heart, Based On Your Sign
valentinrussanov/E+/Getty Images
Ice cream. Alanis Morissette karaoke. Obsessively reading your horoscope and saging your house. There can be a lot of cures for the relationship blues, and while astrology can't dictate (or fix) everything in your love life, knowing the zodiac sign most likely to break your heart may help you steer clear of future heartache. It may also give you some perspective on your romantic past. Insight and intuition? Sounds like a win-win to me.
Whether you and your ex had been drifting apart for a while or the breakup came out of nowhere, moving on from a relationship can take on many forms. From going on a dating break to planning a big night out with your friends, healing can look different for everyone. While there's no one right way to move on with your life, the first step to fixing a broken heart is often to listen to your gut. There's no way around it: Breakups can be a huge bummer. But talking to your friends, taking part in your favorite hobbies, or treating yourself to a delicious meal can make it all a bit better.
And if you're looking for some celestial guidance, here's the sign most likely to break your heart, according to your zodiac sign.