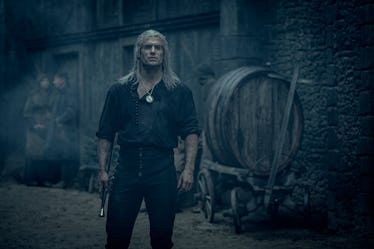 'The Witcher' Happens Completely Out Of Order, So Here's The Real Timeline
Netflix
From Game of Thrones to Watchmen, HBO has been great at proving series once seen as unadaptable can be turned into small-screen entertainment. But others are coming up, including Netflix with The Witcher. The series was considered difficult because it included short stories, novels, and a video game. But the series made it work by going at the material from an unexpected angle and taking The Witcher's timeline all out of order.
The Witcher has two short story collections all about Geralt of Rivia, the mutant monster hunter. Then, it shifts and becomes a tale of Princess Ciri (the Lion Cub of Cintra, who Geralt rescues) and her mentor, Yennefer, who happens to be the love of Geralt's life. Add to this the video games, which are expansions of the short stories, and one can see why The Witcher was considered unfilmable.
Showrunner Lauren S. Hissrich's idea was to take everyone's story and lay it out end to end. Then, she broke the timeline into three sections and wove them back together so viewers sometimes aren't sure where they are, or more importantly, when.
But by following the clues, one can put together the story in order.