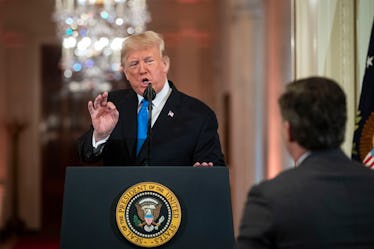 Reporters Are Firing Back At The White House For Revoking This CNN Journalist's Press Pass
Pool/Getty Images News/Getty Images
Things got heated during a White House press conference on Wednesday, Nov. 7 when President Donald Trump lashed out at CNN reporter Jim Acosta. After an incident in which Acosta apparently refused to give over a microphone to a female White House intern, it appears that things have really hit the fan. Following Wednesday's conference, Acosta's press access to the White House has been suspended. Now, people are calling the White Houses' reason for revoking Jim Acosta's press pass "fake news."
On Nov. 7, the president gave a press conference on from the East Room of the White House for the purpose of "discussing our success in the midterms" on Nov. 6, according to a morning tweet. The conference ended up being absolutely wild, with a combative Trump pushing back at questions he deemed inappropriate, and even deeming one question from a black reporter "racist." But the wildest moment was when Acosta attempted to ask Trump a follow-up question about the Russia investigation, as the president attempted to call on another reporter. During the exchange, a White House intern repeatedly tried to take the microphone out of Acosta's hand, in a moment caught on video. Cut to a few hours later, Acosta tweeted that he'd been denied entrance to the White House, and that security had asked him to hand over his "hard pass," which allowed easy access to the White House.
Shortly after, White House Press Secretary Sarah Huckabee Sanders tweeted out that Acosta's press pass had been revoked, and accused him of "placing his hands on a young woman."
She also shared a no-audio video of the moment with Acosta, which showed Acosta refusing to surrender the microphone to the woman who reached for it. Acosta appears to forcefully lower his arm to push away the unnamed intern's reach for the microphone in his other hand.
A video shared from another source shows the same moment, and includes Acosta's telling the intern, "pardon me ma'am" as she reached for the microphone.
But, according to The Hill, reporters have said that the moment of contact in the video was sped up to make it look like the moment of contact was more aggressive. Elite Daily reached out to the White House for comments on accusations that the video was manipulated, but did not immediately hear back.
Matt Dornic, CNN's Vice President of Communications and Digital Partnerships, was one of the people to call Sanders out for sharing a "doctored video" calling it "actual fake news." In his tweet, Dornic also shared a video from another user that shows a side-by-side comparison of two videos: one slowed down and the other (the Sanders one) apparently sped up.
Dornic wasn't alone in coming to Acosta's defense and calling out the video. Fact checkers also said that the video appeared to be edited, according to The Washington Post.
In a statement, CNN said they are behind Acosta and said that the revocation was "done in retaliation for his challenging questions at today's press conference." CNN added, "Sarah Sanders lied. She provided fraudulent accusations and cited an incident that never happened." The White House did not immediately respond to Elite Daily's request for comment on the statement.
While many feel that the video Sanders shared might have been doctored, there was still a question of where the White House picked it up from. Turns out, according to Business Insider, that same video was shared hours earlier on Nov. 7 by Paul Joseph Watson, the editor of Infowars.com, which is a notoriously far-right conspiracy outlet that in recent months has been banned from every major digital platform including Apple, YouTube, and Facebook. The White House did not respond to Elite Daily's request for comment on the source of the video.
In the meantime, it's nice to see reporters from different publications sticking together to support the facts. It may be cold comfort to Acosta, who is now unable to do his job.