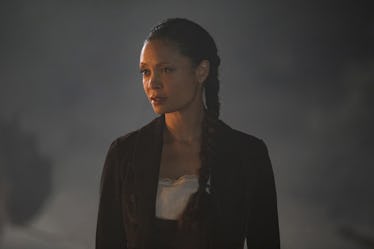 The 'Westworld' Season 2 Finale Will Apparently Change The Entire Show, So Get Ready
HBO
When Westworld debuted 18 months ago, it was a long game puzzle that slowly clicked into place over the course of ten episodes. At the end of the finale, the last tumbler clicked into place, unlocking the "New Narrative" and ending the series in a bloodbath for the ages and killing creator Robert Ford. So it's unsurprising that fans are now expecting Season 2 to work in something of the same way, and that the premiere on Sunday, April 22, is merely the beginning of the tumblers turning to reach the Westworld Season 2 finale.
Already the cast and the showrunners have begun hinting that the finale will be one for the ages. During his discussion of "supersized" episode, for instance, showrunner Jonathan Nolan referred to the finale as "epic."
The second season the premiere is a little over 70 minutes. The fourth episode — which is one of my favorites — is a little longer than an hour. And the finale is just going to keep going and going — it's a bit of an epic.
Ed Harris, who plays the Man In Black (aka William), also suggested something terrible might be happening to his character at the end of the season at the Westworld premiere:
I see him as a protagonist actually, yes, particularly this season. The maze is […] history. He's on a whole other track this year, and I think the track that he's on definitely makes him a protagonist. I'm worried about Season 3, to tell you the truth.
So what exactly is happening in the Season 2 finale? Well, first we need to watch the premiere. But in a new interview ahead of this weekend's debut, Rodrigo Santoro, who plays the outlaw Hector, warned fans that the ending is on "a different level."
Talking to Digital Spy, Santoro called the finale "beyond" anything the show has done before.
That's what I can say. It's beyond what you saw in the finale of season one, so yes, it will change a lot. I think it's very surprising, very much. It's a different level. That's all I can say.
Considering that the Season 1 finale changed the show on a fundamental level, this is basically warning us that the plan for Westworld is to do the same thing two years running. It's not like other shows haven't done the same thing. Game of Thrones, for instance, has pulled off major hidden death twists seven times in seven seasons, but each time they've gone about it a different way, and while fans traditionally expect it in Episode 9, in truth they don't do it in the same place year after year.
But if the plan for Westworld is an attempt to pull the same "puzzle box" trick two years running, it certainly explains the "spoilers" fake out video troll-job that Nolan and his co-showrunner Lisa Joy pulled the other week on Reddit.
Santoro does hint that his character will have more screen time this year and that he and Maeve will be important to the plot. But otherwise, he's not giving anything away either. Keeping spoilers under wraps this season is paramount.
You don't want to spoil it. Of course not. And you don't want me to spoil it for you. You don't want me to spill the beans. You do want that, but you actually don't. Because if I do, you're not going to watch it. I think that whole dynamic is very interesting because you want to be teased, but you don't want the answer – even though you [think you] want it. But you don't. So I think that dynamic is what makes it exciting.
Westworld Season 2 premieres on HBO on Sunday, April 22, 2018, at 9 p.m. ET.