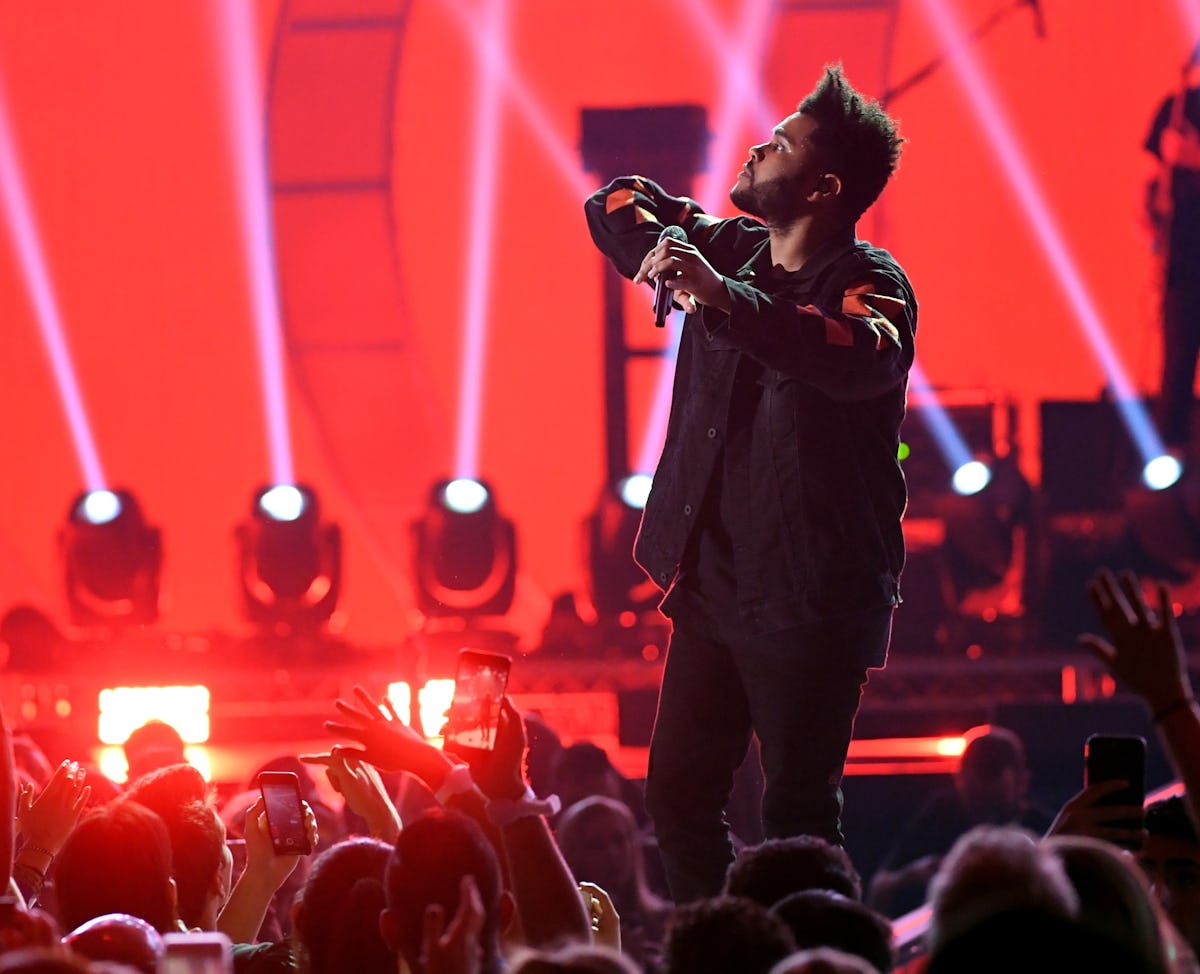 The Weeknd Is Getting His Own Marvel Comic Book & We're Geeking Out
Kevin Winter/Getty Images Entertainment/Getty Images
This past week leading up to New York Comic Con, singer Abel Tesfaye, known better to all his fans as The Weeknd, was teasing something happening with Marvel, on the same day as Netflix The Punisher panel. While that panel was canceled, thankfully The Weeknd's news was not. The Weeknd and Marvel comics team up for a brand new project. He's taking the persona from his latest album and developing it into a graphic novel. Yes,
With this move, Tesfaye cements himself into the rarefied air of musical artists who have branched their brand out into other media formats. The trend dates all the way back to the 1960s with The Beatles, whose personas were used to make a pair of popular movies, including the animated Yellow Submarine, and the 1970s, when David Bowie turned Ziggy Stardust into his own personal superhero, decades before it was on trend.
This is not the first celebrity that Marvel has taken and turned them and their persona into a superhero with their own comic line. Recently they took Project Runway's Tim Gunn, a man who encourages contestants to be their own superheroes every week, and did the same. Other artists that have have received Marvel comic lines include The Black Eyed Peas, Justin Bieber, Lady Gaga, and Kiss.
The artwork for the new line was revealed by The Weeknd on Twitter, in three stages. The first was revealed in September.
Then this came out earlier this week:
And now, the full cover, as revealed on Saturday:
When Starboy came out back in November of 2016, it was obvious that Tesfaye had plans for it beyond just an album. Speaking to Pigeons & Planes at the time of the album's release, he said the following.
Starboy is the next chapter in this chronicle, this saga. I guess this is the fourth chapter. He's a character that we created. It's so funny, we want to create a comic out of him, as well. … He's a cool, dope character that makes appearances a lot on the album. He's definitely made his appearance in different records in the past, as well. He's a more braggadocious character that we all have inside of us.
The Weeknd's comic debut and subsequent appearance at the Marvel booth for autographs was one of the few bright spots for the company. The comic book publisher-turned-entertainment juggernaut should have dominated the convention, considering their enormously successful year.
In movies they've had Guardians of the Galaxy Vol. 2 and Spider-Man: Homecoming dominate at the box office, and Thor: Ragnarok is on deck for next month. In TV, Agents of S.H.I.E.L.D. has managed to land an improbable fifth season, while Netflix successfully crossed over their four series into Marvel's The Defenders this summer.
But none of that was the talk of the convention. Instead, Marvel opened Thursday morning with the announcement that one of their most highly anticipated panels for Netflix next series, The Punisher (which was almost certainly supposed to double as a premiere date announcement), had been canceled due to the events in Los Vegas.
Then on Friday, in an incredibly tone deaf bit of timing, Marvel announced that they were working with arms manufacturer Northrop-Grumman on a new joint project. As one can imagine, considering the climate, fans saw this as an unacceptable bit of propagandizing on the part of Marvel.
By Saturday morning, Marvel had had to cancel *that* event as well, guaranteeing that no matter how well things went from there on out, that was all fans would be gossiping about.
Still, you can't hold a good juggernaut down, and Marvel is sure to bounce back again, when we finally get a The Punisher release date and Thor: Ragnarok arrives in theaters Nov. 2, 2017.