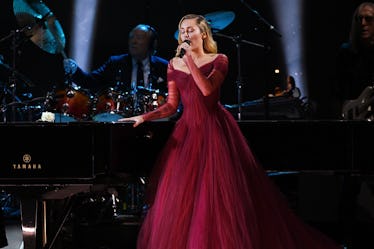 Miley Cyrus Brought Some Real Hannah Montana Inspiration To March For Our Lives
Kevin Winter/Getty Images Entertainment/Getty Images
On Saturday, March 24, hundreds of thousands of students, teachers, and families took to the streets to demonstrate their desire for stricture gun control laws to keep schools safe. The central March For Our Lives demonstration took place in Washington D.C., where speakers included high school students from Marjory Stoneman Douglas High School, the Parkland, Florida school where a shooting took place on Feb. 14, taking the lives of 17 students and educators. The students were supported by performers, including Jennifer Hudson, Demi Lovato, and Miley Cyrus. The video of Miley Cyrus' March For Our Lives performance shows just how passionate the entire event was in D.C. — and, indeed, around the country.
Cyrus' appearance at the march was heavily anticipated, especially as it wasn't confirmed until late this week that she would actually be performing at the event.
"So inspired by the incredible students behind #MarchForOurLives. Can't wait to join them in DC to perform and show my support. See you March 24th," Cyrus tweeted on March 20.
Cyrus was with the Marjory Stoneman Douglas students in D.C. leading up to the event, her social media posts show. She also made her appearance at the march alongside her family. Cyrus posted a picture on Instagram Saturday morning with her sisters Brandi and Noah and her mother, Tish.
Onstage on Saturday afternoon in Washington, Cyrus performer her classic hit single "The Climb" from the 2009 Hannah Montana movie.
You can see the full video of her performance here:
Cyrus gave a hint of what song she was going to perform before hitting the stage on Saturday. "These lyrics mean more to me now than ever. I won't ever give up & neither will the millions that march with us today! #EndGunViolence," she tweeted, along with lyrics to "The Climb." The lyrics she posted are,
I can almost see it. / That dream I'm dreaming, / But there's a voice inside my head saying, / 'You'll never reach it.' / Every step I'm takin' / Every move I make feels lost with no direction, / My faith is shakin'
But I, I gotta keep tryin' / Gotta keep my head held high
Cyrus also posted more lyrics from "The Climb" on her Instagram, reading,
The struggles I'm facing / The chances I'm taking / Sometimes might knock me down, / But no, I'm not breaking / I may not know it, / But these are the moments / That I'm gonna remember most, yeah / Just gotta keep goin',
And I, I gotta be strong / Just keep pushing on
Cyrus took the stage at March For Our Lives in Washington D.C. wearing a simple outfit of black jeans and boots and with her hair up in a simple ponytail (she did, in Miley style, have some small sparkly embellishments on her face). She wore a sweatshirt with the hashtag #MSDStrong printed on it, representing the Parkland, Florida high school that led the way in this wave of activism against gun violence. Cyrus also spent her entire performance carrying a poster reading, "Never Again."
The Marjory Stoneman Douglas High School students began the Never Again movement after a gunman killed 17 students and educators on Feb. 14. The students immediately launched into calls for gun reform, calling for stricter legislation over gun ownership. The students led the march, along with sibling marches along the nation, with support from Everytown for Gun Safety, Giffords Courage, and other organizations dedicated to gun reform.
As part of their efforts, Parkland students put together a song, "Shine," which they performed at the march — and which Miley Cyrus herself supported. "Please support the powerful message of change, unity and healing from student survivors of the #StonemanDouglas shooting. Listen to their song #SHINE ... & be a part of the movement to help end gun violence!" Cyrus tweeted on March 15, along with a link to the song. All in all it was a day to remember the power of music in creating change and in healing.