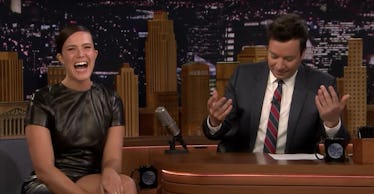 Mandy Moore Got Quizzed On Her Saddest 'This Is Us' & 'A Walk To Remember' Lines
YouTube
I have to tell you guys a secret, and it's about actress Mandy Moore. When I first saw her play her character Jamie Sullivan in the 2002 film, A Walk To Remember, I was blown away. So blown away, in fact, that I had cut out pictures of her from magazines and formed a collage to put on my bedroom door. Yes, Shane West (who played Landon Carter) was up there, too, but it was Mandy Moore's portrayal of Jamie that just blew my adolescent mind away. I try not to go around telling the world that my bedroom door was basically a tribute to Mandy Moore's acting, but there you have it. So when Moore went on The Tonight Show with Jimmy Fallon to get quizzed on her classic lines from A Walk To Remember and This Is Us, I turned into a ball of emotions. And the video of Mandy Moore sorting her saddest movie lines has filled me to the brim with nostalgia, y'all.
On Monday, Sept. 24, the 34-year-old actress sat down with Jimmy Fallon and was asked to participate in a quiz that would test her knowledge of her two most recognized projects — A Walk To Remember and This Is Us.
"I thought it would be kind of fun if we played a game where I will say a quote from either A Walk To Remember or This Is Us, and you try to guess which one it's from," Fallon told Moore, after they chatted about one of her first acting roles as Jamie in the film A Walk To Remember.
"If I don't pass this quiz, that doesn't really bode well for me," Moore quipped, looking willing to play but clearly slightly scared.
Oh, ye of little faith, Mandy.
Fallon started off easy (well, easy in my opinion, but that might be because I have nearly every single quote from A Walk To Remember engraved in my brain), reading, "You have to promise you won't fall in love with me."
Moore instantly guesses correctly, noting that it was a line she said to actor Shane West in the 2002 film.
And, as we all know, West's character obviously didn't listen, and ended up falling deeply in love with her, because who could resist Mandy Moore's charm?
Fallon continued, citing another line from A Walk To Remember that Moore recognized, but for his third question, he switched things up a bit.
"For the past 16 years, I have put everything and everyone ahead of myself," Fallon stated somewhat dramatically, which Moore noted was a line that her character, Rebecca Pearson, says on This Is Us.
Don't quote me on it, but I'm pretty sure this was part of the big fight she and husband Jack got into after Rebecca started performing onstage again with her kind-of, sort-of ex-boyfriend.
You tell 'em, girl.
The last line that Fallon delivered was a tricky one, but it didn't fool our girl, Mandy. "I can't go back to who I was before I met you," Fallon somberly states to Moore.
"That is Jack in This Is Us," Moore tells Fallon... and she's right! Mandy Moore is so skilled that she even knows lines that aren't hers to deliver!
Give yourself a round of applause for a job well done, Mandy.
Also, Mandy, if you're reading this: I've since taken down all of my memorabilia from my childhood bedroom, but I'm pretty sure that I still have a notebook somewhere decorated with your face alongside quotes from A Walk To Remember. Once a fangirl, always a fangirl.