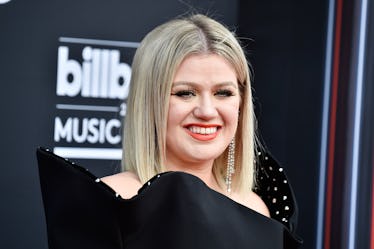 Kelly Clarkson Covered Cardi B & Khalid Songs In Her BBMA Opener & She Killed It
Frazer Harrison/Getty Images Entertainment/Getty Images
I knew I was super excited for Kelly Clarkson to host the 2018 Billboard Music Awards, and boy did she deliver. The video of Kelly Clarkson's 2018 Billboard Music Awards opener is jaw-dropping. She brought the house down with an awesome mashup of cover songs.
Clarkson could have just opened the show by belting out one of her many hits. Instead, though, she decided to really celebrate the occasion and cover some of the biggest names on the music scene right now. There were so many A-list tracks in there, it was hard to keep up. The pop superstar served up some Cardi B, Bruno Mars, Imagine Dragons, Khalid, Shawn Mendes, Ed Sheeran, and there was even some Taylor Swift in the mix.
The crowd went wild when Clarkson suddenly busted out Kendrick Lamar's "HUMBLE," with a diva twist. Then, she parlayed into Imagine Dragons "Thunder," and made a quick swerve to Khalid's "Young Dumb & Broke."
Of course everyone watching at home loved it, but everyone in the audience — including the artists she was covering — were totally living for it!
Here, just look at them getting down to Clarkson's performance (Khalid's pure excitement is my favorite):
Here's a closer look at BTS living for it:
... and a closer look at Mendez and T Swift living for it (also peep Swift serving up some of that "Look What You Made Me Do" tude):
Honestly, I could watch Clarkson cover Billboard artists for days. Maybe weeks. OK, months.
But before any of that, Clarkson opened the show up by taking a moment to talk about the May 18 school shooting in Santa Fe, Texas, in which a gunman killed 10 people. The whole MGM Grand was dark as Clarkson stood there and said,
I'm a Texas girl and my home state has had so much heartbreak over this past year. Once again, y'all, we're grieving more kids that have died for absolutely no reason at all.
The singer went on to say that the BBMAs wanted her to do a moment of silence, but she's sick of them. "It's not working, obviously,' she said. Clarkson instead offered that we should stop moments of silence and "do moments of action." She said,
Why don't we stop moments of silence and do a moment of action? Why don't we do a moment of change? Change what's happening, because it's horrible. Mommies and daddies should be able to send their kids to school, to church, to movie theaters, to clubs. You should be able to live your life without that fear.
Clarkson's heartfelt speech went on to say that everyone needs to do better because they are failing their children and communities. She appealed the everyone as a mother, herself, and urged everyone to take action to bring about change. The "Piece by Piece" singer said,
So people need to do better. We are failing our children, we're failing our communities. We're failing their families. I have four children. I can't imagine getting that phone call or knock on the door. So instead of a moment of silence, I want to respect them and honor them with tonight y'all in your community, where you live, your friends, everybody. Let's have a moment of action, let's have a moment of change.
It's a night to celebrate music, but what's going on in the world can't be ignored. Clarkson did an exceptional job at taking the time to mourn for what happened in Santa Fe, and then also doing her hosting duties by presenting everyone with an amazing night of music and awards. I think she was the perfect choice for the night. Clarkson truly killed it as host, she can host everything, if you ask me.