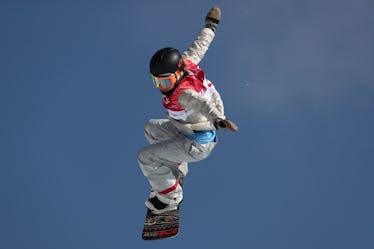 Jamie Anderson's Medal-Winning Big Air Run Was Amazing, & You Need To See The Video
Al Bello/Getty Images Sport/Getty Images
Warning: if you're afraid of heights or gnarly air jumps then the Olympic big air run even might not be the one for you. On Feb. 21 (Feb. 22 in South Korea) the women's snowboard big air final proved that these Olympians are reaching new heights. This video of Jamie Anderson's big air run that snagged silver is so incredible, and you need to see it.
The video, which shows Anderson's first of three runs, proves that she's a force to be reckoned with. According to The New York Times, this is the first year to debut the big air event, where snowboarders must slide down a 49-meter tall ramp which ends in a curl and ultimately sends them straight into the, well, air. The competitors only have one chance to land the jump.
No big deal right? Anyone can do that right?
Of the three runs, the best two scores are considered and averaged together in order to make up the total.
As implausible as it may seem to us common people, Anderson made it look easy. She landed a score of 177.25, making her second place out of 12 competitors. Her first run was her best with a score of 90.00.
This makes Anderson officially a silver medalist in big air, with bragging rights for totally crushing one of the newest Olympic sports. This also marks Anderson's third Olympic medal in her career, two alone being from the 2018 PyeongChang Winter Games.
Need to see it to believe it? Check it out for yourself.
Snowboarders are basically synonymous with relaxed, and while I could make a lame Winter Olympics-snowboarding "chill" reference here I'll refrain. As determined as Anderson is while competing in the international sporting event, she spoke to Elite Daily about what prepares to take on the slopes.
According to Anderson, the snowboarder uses meditation, crystals, and beads to get her ready for intense competition. This isn't too much of a surprise, since Anderson hails from bohemian city Lake Tahoe, Utah. However, Anderson tells Elite Daily that she really didn't become in tune with her spiritual side until her accident at the 2009 U.S Open of Snowboarding in Vermont.
She says,
"After the accident," Anderson told Elite Daily, "I learned more about self-care and how important it is to take care of your mind, body, and spirit."
Well clearly all that self-care proved helpful.
Anna Gasser of Austria ended up taking home the gold medal in big air with a score of 185.00. Despite Anderson putting up an incredible fight, losing to Gassar is nothing to be ashamed of. The 26-year old Austrian athlete is currently the leading World Snowboard Tour big air champion of 2016 and 2017.
In fact, Anderson mentioned Gasser in an interview with NBC Olympics, refusing to label her as a "rival," but still acknowledging the competition between the two. "I wouldn't say we have any rivals," Anderson told NBC Olympics. "But last season, it was Anna Gasser and myself on the top of the podium at a majority of the contests."
So what can we expect from Anderson once her time at the Olympics are over? Her plans might surprise you. During the interview with NBC Olympics, she was asked what she would be doing if she wasn't competing in Olympic snowboarding events, and her response is just so perfectly chill.
She said,
Not quite sure, but after the Olympics, I would love to live on a farm with horses and ride a lot of powder in the backcountry and find more ways to give back.
"Ride a lot of powder." Oh Jamie, you're simply the chillest.