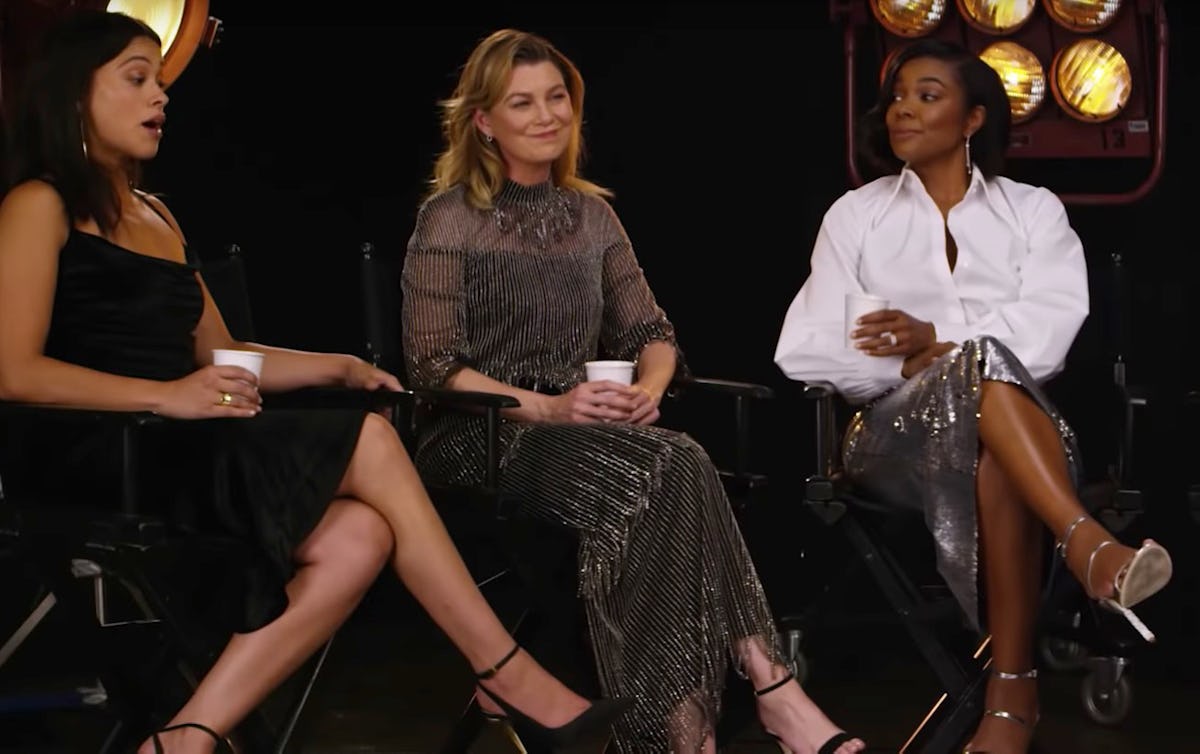 Ellen Pompeo Cried As She Demanded White Actors Stand Up For Diversity In Hollywood
It can sometimes be frustrating to see a lack of diversity when it comes to the world of entertainment. And, while it's downright exhausting for many average people to continually ask for a change in the industry, there should be some comfort in knowing that we're not alone in that thought, and that some celebs also feel the exact same way. In an incredibly candid interview with Grey's Anatomy star Ellen Pompeo, along with actresses Gabrielle Union, Gina Rodriguez, and Emma Roberts for Net-A-Porter, we got to listen to the four women discuss a variety of things. Most notably, there was a conversation around the issue of diversity and the gender pay gap (particularly for women of color) in Hollywood. During the conversation, we heard Ellen Pompeo encouraging white actors to demand diversity, and it was not only beyond powerful to listen to, but also so, so moving.
The 24-minute interview with Net-A-Porter is absolutely worth a full watch, but the highlight for me personally was when the topic turned to the lack of diversity not only in Hollywood, but in the literal room the four actresses were sitting in for their chat. Pompeo surprised nearly everyone when she revealed that there was a lack of inclusion on the set of their interview.
"This day has been incredible, and there's a ton of women in the room," Pompeo begins. "But I don't see enough color. And I didn't see enough color when I walked in the room today."
That's right. Ellen Pompeo is calling out the very set that she's on for having a lack of diversity. She continued, saying,
I had a meeting with the director or another endorsement project that I'm doing. I said, "When I show up on set I would like to see the crew look like the world that I walk around in every day." And I think it's up to all productions to make sure that your crew looks like the world that we see. As Caucasian people, it's our job, it's our task, it's our responsibility to make sure that we speak up into every single room we walk into that this is not OK, and that we can all do better. It's our job, because we created the problem.
Can I just say, on behalf of everyone, hell yes?
Gabrielle Union, Gina Rodriguez, and Emma Roberts are all silent yet clearly impressed after Pompeo's monologue — particularly Union, who seems pleasantly surprised by Pompeo's very direct messaging and exclaims, "Cheers to you," as they all raised their glasses to toast Pompeo on that brilliant speech.
As the conversation moves forward, we hear Gina Rodriguez' story about being a Latina woman in Hollywood, which ultimately makes Pompeo tear up. When Gabrielle Union chimes in to add her story about being a woman of color, and not wanting to look the like "ungrateful brown person" in the room when she gets a gig, Pompeo chimes in again and delivers yet another incredibly poignant point.
"That's why it is my job, that's why I say that we bear the burden, because they don't feel comfortable to speak up," she says, adding, "I'm happy to take it on in any room at any time."
Union then notes that it's "f*cking hard" because if you do speak up, you "run the risk of losing your space."
"F*ck that! I don't need a space," Pompeo says, visibly upset. "I'm good. If that's what I had to sacrifice, if that's what it was, it's the right thing to do. It's been too long, and the right thing is never done."
All I have to say is:
Seriously.
The four women end the conversation powerfully, by encouraging everyone to make their circle more inclusive, because that's the only way the issues of race and gender will ever start to dissolve.
You can watch the entire interview below, but if you want to skip to the part where the ladies chat about diversity in Hollywood, then fast-forward to about 14 minutes in:
Naturally, Twitter went wild with support for Pompeo's message after Net-A-Porter debuted the video:
I think we can safely say that this interview just turned Hollywood on its head in the best way possible — or, at least, moved the needle in the right direction. Cheers, ladies. You are all rockstars.