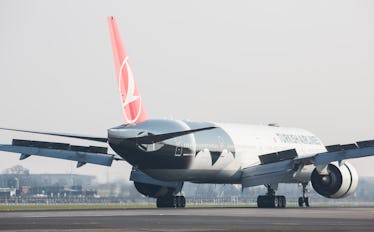 This Woman Literally Stood Up To Stop A Man's Deportation & The Video Is Heart-Wrenching
John Phillips/Getty Images Entertainment/Getty Images
Weeks after President Donald Trump's "zero tolerance" immigration policy sparked considerable backlash, a 21-year-old Swedish student is making headlines after she made a stand, quite literally, to block the deportation of one man to Afghanistan from Sweden. Elin Ersson live-streamed the standoff between her and the flight crew on a Turkish Airlines flight, and she can be seen refusing to sit down until an Afghan deportee in his 50s is allowed to leave the plane. Unsurprisingly, the video of Elin Ersson stopping an Afghan man's deportation in Sweden is going viral, and it's total inspiration for anyone who's ever wondered about the power that one person can have in a situation.
On Monday, July 23, Ersson boarded a plane at Landvetter Airport in Gothenburg, Sweden to Istanbul, Turkey with the sole purpose of stopping the deportation of a 26-year-old Afghan man to Kabul, according to The New York Times. Per the publication, she soon found another individual in need of her help — an older man who was also expected to be deported to Afghanistan by way of Istanbul.
During the tense, two-hour standoff, Ersson could be heard telling the irritated passengers and angry crew members, "I am doing what I can to save a person's life. As long as a person is standing up, the pilot cannot take off. All I want to do is stop the deportation, and then I will comply with the rules here. This is all perfectly legal, and I have not committed a crime." She added that it is up to the pilot to decide if an individual is not allowed on the plane, and that she would exit the aircraft as soon as the Afghan man was also allowed to leave.
The live video, which had gathered 3 million views on Facebook as of Wednesday afternoon, showed the student being told to leave the plane or sit down by angry fellow passengers as she walked down the aisles and explained that she was trying to save the man's life.
"I'm trying to change my country's rules," she could be seen telling a seated passenger. "I don't like them. It is not right to send people to hell. He is going to die, because it's Afghanistan." At one point, she broke down in tears.
Per The Guardian, Errson is part of a group that peacefully protests the deportation of Afghans who have been denied asylum in Sweden. Many deportees risk their lives going back to Afghanistan, or have no family or friends to go back to.
In the end, the college student's actions paid off. She noted that many started clapping when they realized what she was doing, and a few of the passengers even stood with her in a show of solidarity. Once a flight attendant finally told her that the Afghan man would be leaving the aircraft, Errson agreed to leave as well and was met by authorities at the exit. That doesn't mean she was arrested, however. Per Hans Lippens, a spokesman for the Swedish Police in Gothenburg, it would be up to Turkish Airlines to decide whether or not to sue her for the cost of the delay.
While Errson notes that it's likely that Swedish authorities will try to deport the man at a later time, she hopes her successful protest helps shed light on the realities of deportees and encourages more people to make a stand.
"People [in Afghanistan] are not sure of any safety," she said in an interview with The Guardian. "They don't know if they're going to live another day. As I've been working and meeting people from Afghanistan and heard their stories, I've been more and more in the belief that no one should be deported to Afghanistan because it's not a safe place. The way that we are treating refugees right now, I think that we can do better, especially in a rich country like Sweden."
She concluded, "My ultimate goal is to end deportations to Afghanistan."