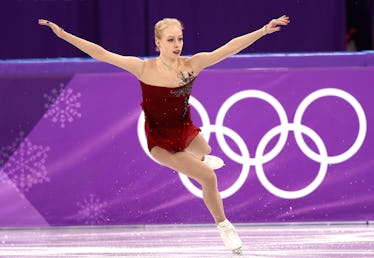 Bradie Tennell's Short Program Was A Strong Start, & The Video Proves It
Jamie Squire/Getty Images Sport/Getty Images
Bradie Tennell was the first competitor representing Team USA in the women's figure skating short program on Tuesday, Feb. 20, at the Winter Olympics in PyeongChang, and man did she slay on the ice. Tennell, who is only 20 years old, has already earned a bronze medal alongside the United States' figure skating team, and her performance at her most recent short program proves that she definitely helped make that a reality. The video of Bradie Tennell's short program shows just how amazing she is while on the ice.
On Sunday, Feb. 11, Tennell nailed her hardest jump, the triple lutz and triple toe loop, flawlessly, dancing to a song from a South Korean film soundtrack, and according to Time, Olympic commentator and previous Olympic champion Tara Lipinski called Tennell "a 'machine' for her textbook technique and reliability in landing jumps." Her performance helped earn that bronze medal awarded to Team USA, and according to Journal Sentinal, Tennell said,
It's incredible ... I came into these Games just wanting to do the best that I possibly could and to have helped Team USA earn a medal gives me such an amazing feeling of pride and accomplishment.
So that's why all eyes were on the young skater at Tuesday's short program. Would we see another incredible performance from Tennell? Unfortunately, Tennell didn't nail her performance tonight, but she still gave fans a reason to cheer her on.
Tennell took a spill in the first jump of her routine, but got up and got moving again to take home a pretty respectable score of 64.01 — which is pretty good, since she was the very first skater.
Who is Bradie Tennell?
The 20-year-old Illinois native seemingly came out of nowhere at the 2017 Skate America competition in November, where she was the "surprise bronze medal-winner," which catapulted her into talks of going to the Olympics, according to NBC. When she took home the title of 2018 U.S. national champion in January and was named to her very first Olympic team at 19 years old, it was clear that Tennell was beyond ready for her Olympic debut in PyeongChang.
Her mega-watt smile and platinum blonde hair has likened Tennell to the Disney character Cinderella, which is fitting for the skater who came from very humble beginnings. According to Ice Network, Tennell said:
I always loved Cinderella since I was two years old ... At three, my mom made me a Halloween costume, a Cinderella dress. When the movie came out I probably watched it 10 times. It never gets old. I actually watched it on the plane here.
And if that's not adorable enough, here's proof that Tennell's life truly is a Cinderella story:
Tennell's clearly caught onto the theme, too, because when she won the title of U.S. Figure Skating Women's Champion, she wore a sparkly blue dress that channeled her inner princess:
Her path to the Olympics wasn't perfectly paved, though: While Tennell won the 2015 junior national title, she "fractured both sides of her lumbar vertebra, and was forced to wear a back brace all summer," according to IFS. Still, she focused on healing with physical therapy and made her way back to the ice in September of 2016.
Tennell told People, "I was injured the past two years, so it really took a toll on my skating and my consistency," adding, "Now being healthy this entire year has really made a huge difference." Clearly, focusing on her health has paid off. She credits her mom, Jean, who is a nurse, for helping her throughout the healing process. "When I was down, she was there to pick me up, and her support really got me through that," Tennell said to People.
After years of practice, Tennell has finally shown the world just what she's made of, and her performance in the short program has totally solidified her Cinderella story.
Hey, I guess if the skate fits, wear it.