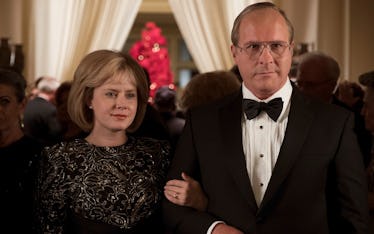 These Photos Of The 'VICE' Cast Compared To The IRL People Are Uncanny
Annapurna Pictures
The reviews of VICE have been hit and miss. Some critics love it, while others are not as thrilled with the fractured nature of the film's structure. But there's one thing everyone can agree on, the performances of the actors involved were stellar. Christian Bale, Amy Adams, Sam Rockwell, and Steve Carell are phenomenal in their portrayals of Cheney, his wife Lynne, George W. Bush, and Donald Rumsfeld. In fact, nearly everyone in this cast is spot on. If you compare the VICE cast vs. the real people, it's downright stunning how close of a match the costumes, hair, and makeup come to the real people.
At the top of the list is Bale as Cheney. But Bale isn't the only one to give a transformative performance. He encourages everyone else in the cast to step up and bring their A-game. Amy Adams takes what could be a two-dimensional, evil Lynne Cheney and gives her frustrated ambitions a relatable drive. Steve Carell takes Donald Rumsfeld and gives him a level of pathos I didn't think possible. As for Sam Rockwell as George W. Bush, he obliterates all impersonations that came before.
There are other surprising cameos too. Here's a rundown of all the characters who hit the mark perfectly.