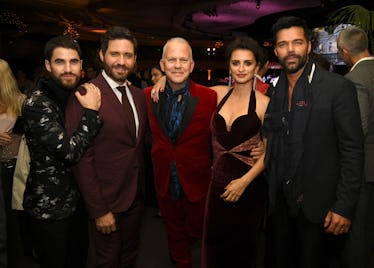 Photos Of The Versace Family Vs. The 'American Crime Story' Cast Are Scarily On Point
Kevin Winter/Getty Images Entertainment/Getty Images
The Assassination of Gianni Versace: American Crime Story premieres on Wednesday, Jan. 17 at 10 p.m. ET on FX. Executive producer Ryan Murphy is known for hiring high-caliber casts who rake in awards like nobody's business (two words: Sarah Paulson). It's too soon to tell if this new American Crime Story cast will similarly excel, but they definitely deserve awards for most accurate likenesses to their characters' IRL counterparts. The similarities between the actual Versace family and the American Crime Story cast are insane, and this casting definitely adds a major dose of credibility to the series.
Murphy is known for working with many of the same actors multiple times, but this time, former Glee star Darren Criss is the only main cast member that had a previous professional tie to Murphy. Although the Versace family released a statement reminding viewers that the show is a "work of fiction," Murphy has said that the family is portrayed with "respect and kindness" despite the intense content:
You have to figure out a different way to tell your story. I think the storytelling was more ambitious and more emotional.
Telling the story of a man murdering designer Versace after killing four innocent people, this season of American Crime Story also features Édgar Ramírez, Penelope Cruz, and Ricky Martin.
In case you've missed any of the promo footage of the season, we've put together comparisons of the real-life figures of the Versace story and the actors portraying them. Some of these match-ups are crazy!
Ramirez, known for his roles in Joy and The Girl on the Train, will appear as Versace, who was shot outside his Miami villa on July 15, 1997 at the age of 40.
Mourned by famous friends such as Princess Diana and Elton John, Versace left behind a fashion empire that his sister Donatella then took over. Ramirez is definitely a strong doppelganger for Versace, and this could easily be a career-changing role for him.
Oscar winner Cruz makes her American TV debut as Donatella Versace, who has been vocal about the fictional aspects of the show. Although, she seems to be cool with Cruz's work on the series, as she recently sent the actress flowers. Responding to Murphy saying that she was friends with the living Versace, Cruz said:
I don't know if [we're] 'friends,' but we know each other from seeing each other in different places, and I really like her. She's always been really nice, really kind to me.
Versace is currently the artistic director and vice president of her family's fashion brand.
Criss will appear as the serial killer Andrew Cunanan, who killed himself eight days after murdering Versace. Among Cunanan's other victims was well-known Chicago businessman Lee Miglin. Looking at this comparison, it's clearly amazing what a distinct hair part and a pair of glasses can do.
To this day, Cunanan's exact motives for killing so many are unknown, but Criss' portrayal has reportedly already won over early viewers of the season. Could we expect an Emmy win for him later this year?
Playing Versace's lover Antonio D'Amico is singer Martin. D'Amico, now 58 years old, had been with Versace for 15 years when the latter died. D'Amico found Versace lying outside their home after he had been shot.
The Guardian reports that D'Amico hasn't been consulted for the series and he didn't agree with behind-the-scenes photos depicting him and Versace. This inspired Martin to reach out to him, saying:
I said, 'Antonio, listen, maybe you've seen a couple of paparazzi shots of the actual scenes that we're shooting, but please don't judge the quality of it just one picture because it could easily be taken out of context. You have to see for yourself what we're doing, and you're going to be so pleased with everything.'
These casting decisions are spot on, and while there is a hint of controversy surrounding the show, this season of American Crime Story is sure to share a powerful story.