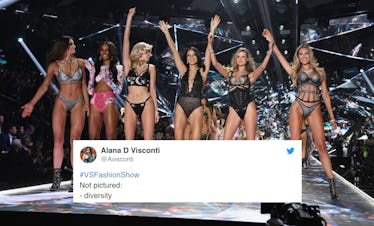 Twitter Isn't Happy About The Victoria's Secret Fashion Show's Lack Of Diversity
Noam Galai/Getty Images Entertainment/Getty Images
I love the holiday season. We get amazing things like candy canes, Secret Santa parties, sparkly sweaters, Christmas lights, and a whole slew of Victoria's Secret Angels strutting their wings, bras, and fierce flowing locks on the runway. Usually, it's the best. This year, the 2018 Victoria's Secret Fashion Show took place in New York City, and designers clearly tried to outdo themselves by upping the ante with magnificent wings, glitzy jewels, and yes, of course, sexy lingerie. However, fans noticed one place where the production was noticeably lacking. These tweets about the 2018 Victoria's Secret Fashion Show's lack of diversity make some great points. Sigh. Elite Daily reached out to Victoria's Secret for comment on the backlash, but did not hear back by the time of publication.
The 2018 VSFS did have some new faces plus fan-favorite models. For example, the Hadid sisters and Kendall Jenner were there, though fans were pumped to welcome new Angels, too. America's Next Top Model alumn Winnie Harlow made her VS debut along with the first Filipino Angel ever, Kelsey Merritt. (Upon hearing the good news that they made the cut, Harlow posted, "I'm so blessed thank you Lord!!" and Merritt shared, "WE DID IT PHILIPPINES!!!!!!")
Still, there was a noted lack of diversity (particularly in body type) on the runway that fans weren't willing to let slide.
Actually, one of the show's performers joined the diversity conversation, too.
Musician Halsey rocked the runway with her performance on the Dec. 2nd broadcast, but was prompted to write a heartfelt message on Instagram regarding problematic comments made by Victoria's Secret's chief marketing officer, Ed Razek, in the days after she pre-recorded her performance. Razek told Vogue in November: "Shouldn't you have transsexuals in the show? No. No, I don't think we should... The show is a fantasy. It's a 42-minute entertainment special. That's what it is. It is the only one of its kind in the world."
Halsey obviously did not approve. She shared her long response to his comment on a Victoria's Secret pink background to Instagram. It began, "I have adored the Victoria's Secret Fashion Show since I was young. Performing this year alongside other amazing artists, and hardworking models/friends was supposed to be the best night of my year."
It continued, "However, after I filmed the performance, some comments were made regarding the show that I simply cannot ignore... As a member of the LGBTQ+ community, I have no tolerance for a lack of inclusivity. Especially not one motivated by stereotype."
From there, Halsey directed her followers to the organization GLSEN which is designed to help support and protect LGBTQ youth. She explained,
If you're on my page because you watched my performance tonight, please instead allow me to direct your attention to GLSEN: an organization that offers services aimed at protecting LGBTQ+ youth. And with respect to those youth targeted by these comments in a world where they have been made to feel "other," I have made a sizable donation in their honor.
She finished her note by stating, "If you are a trans person reading this, and these comments have made you feel alienated or invalidated please know that you have allies. We stand in solidarity, and complete and total acceptance is the only 'fantasy' that I support."
Halsey's final note on "fantasy" is presumably referencing the Victoria's Secret Fantasy Bra and/or it's fantasy branding.
Here is a photo of her on the iconic runway prior to her message:
Razek has since walked back his comments after resulting controversy, posting the following message to Twitter:
For those interested, you can track down GLSEN at glsen.org.