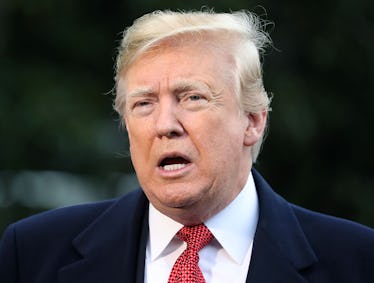 The Trump Administration Is Reportedly Taking A Major Step On Gun Policy Reform
Mark Wilson/Getty Images News/Getty Images
By any metric, gun violence in the United States is a huge problem. As mass shootings reappear in the news over and over, survivors and activists have been pushing for the government to take action on gun control — there was even a worldwide March for Our Lives dedicated to the cause, arranged by survivors of the Feb. 14 school shooting in Parkland, Florida. There's still a long road ahead, but the Trump administration will ban bump stocks on guns, reports say, and it's a really important step.
According to CNN, the Trump administration plans to officially announce a federal ban on the use of bump stocks within the coming days or weeks, after more than a year since the idea was first brought up. In March, the Department of Justice (DOJ) submitted a rule proposal to ban the devices, which are attachments which can allow a semiautomatic rifle to shoot with the capacity of a machine gun. The DOJ did not immediately respond to Elite Daily's request for comment on subject. The Obama administration previously ruled that because the attachments are technically gun accessories and not firearms, they aren't subject to federal regulation, according to CNN. The new 2018 rule will reportedly mandate that bump stock owners have 90 days to destroy or turn in their bump stocks.
According to The New York Times, bump stocks became a major talking point in the discussion over tighter gun laws after a gunman reportedly used the modifier on 12 of his rifles and used it to kill 58 people on the Las Vegas strip in October 2017. Following the shooting and the Parkland shooting a bare four and a half months later, President Donald Trump directed the DOJ to propose regulations banning the attachments, though he later walked some of his promises on gun control back.
The new rule proposed that because bump stocks allow semiautomatic firearms to shoot continuously with only one pull of the trigger, they should be considered "machine guns" as per the definition put forth by the National Firearms Act of 1934 (NFA) and its 1968 amendment, the Gun Control Act (GCA). Together those acts put forward and strengthened the prohibition on machine guns. Except for a few exceptions, mostly for government agencies, its illegal to "transfer or possess a machine gun unless it was lawfully possessed prior to the effective date of statute (which is May 1986 under the Firearms Owners Protection Act). However, technically rigs or modifiers to guns are allowed under the GCA, and therefore so are bump stocks. The Trump administration's new proposed ruling makes the point, though, that bump stocks didn't even exist at the time of the GCA, and should therefore be included in the prohibition on machine guns. The 2018 proposed rule read in part,
The GCA makes it unlawful for any person to transfer or possess a machine gun unless it was lawfully possessed prior to the effective date of the statute. The bump-stock-type devices covered by this proposed rule were not in existence prior to the GCA's effective date, and therefore would fall within the prohibition on machine guns if this Notice of Proposed Rulemaking (NPRM) is implemented. Consequently, current possessors of these devices would be required to surrender them, destroy them, or otherwise render them permanently inoperable upon the effective date of the final rule.
Though the Trump administration's decision to ban bump stocks was first set in motion following the Parkland shooting in February, in October, during a news conference in the White House Rose Garden, Trump said publicly that he is moving towards an official ban on bump stocks in the coming weeks. He even said that he informed the National Rifle Association (NRA). Trump said,
So we're knocking out bump stocks. I've told the [NRA], I've told them: Bump stocks are gone. And over the next couple of weeks, I'll be able to write it up.
Advocates for gun safety have been pushing for the banning of bump stocks, among other things. But in a statement, President of Everytown for Gun Safety John Feinblatt praised the "common-sense first step," but said there was still much more work to be done, saying,
On Election Day, American voters made it crystal clear they want comprehensive action to break the pattern of gun violence, and that starts with strengthening background checks. Bottom line: It's long past time for Congress to act.
Gun safety advocates have been pushing for the government to take other actions on gun safety as well, including closing loopholes in background checks, eliminating restrictions on the Bureau of Alcohol, Tobacco, and Firearms (ATF)'s ability to regulate guns, and reinstating funding for the country's largest public health organization, the Centers for Disease Control and Prevention (CDC), to study gun violence.
It might have taken a long time, but removing bump stocks from the equation could prove to be a good step forward in keeping people safe. We'll see if more steps follow.