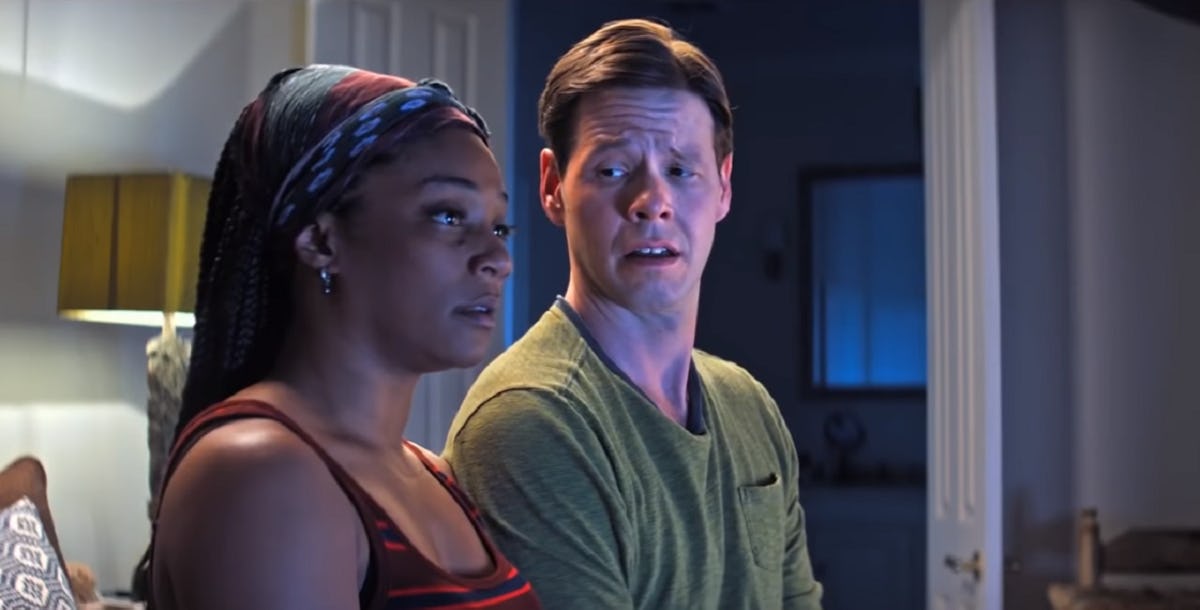 The Trailer For 'The Oath' Is Everything You Need From Tiffany Haddish & Ike Barinholtz
Roadside Attractions
Tiffany Haddish is a rising queen of comedy, while Ike Barinholtz was low-key the best part of The Mindy Project over the years. The two of them partnering onscreen was something I didn't realize we all needed until now, and the comedians will appear together in the upcoming film The Oath. Written and directed by Barinholtz, the comedy thriller is a twisted take on a family Thanksgiving gone wrong that will make you thankful for your own holidays looking calm in comparison. The trailer for The Oath is everything you need from Tiffany Haddish and Ike Barinholtz, but you probably shouldn't count on your whole family going to see it together.
In his directorial debut, Barinholtz also stars as Chris alongside Haddish's Kai. Right before the holidays, the couple learns about the government's plans to have Americans sign a patriots oath by the day after Thanksgiving. The oath symbolizes citizens' loyalty to the president, but Chris isn't a fan of the leader. The new initiative becomes the main topic of conversation at the family table on Thanksgiving, as Chris and Kai's families are so politically divided. Things grow even more complicated when two federal agents are held captive in Chris and Kai's living room. Happy holidays, indeed!
As seen in the trailer, what starts off as a war of words quickly turns into a violent mess. Your Thanksgiving dinner probably doesn't involve Tasers, right?
Also starring John Cho, Carrie Brownstein, Billy Magnussen, and Barinholtz's brother Jon, The Oath does look like it'll start off super relatable, with family members calling each other out for the double standards in their political beliefs. But after the motherly character reminds Chris that they're not discussing politics, events in the movie probably don't align with your own holiday experiences. We've all sat through uncomfortable political conversations at Thanksgiving, but at least we can say that federal agents didn't introduce a crazy twist to the day.
We have to wait until October for the film to reach theaters, but coming from the same producers of the hit Girls Trip, which also starred Haddish, The Oath promises to be a hilarious story. In an interview with Collider, Barinholtz spoke about directing Haddish in a role, saying:
Haddish in [Girls Trip], my friend described her performance as revelatory, and he was right. My advice to people is, if you're gonna make a movie, put Tiffany Haddish in it. If you can get her to be in your movie, you're off to the races because she is amazing and utterly incapable of in-authenticity. She cannot make a false moment, which I love.
The project adds to an already busy fall season for Haddish. Night School, her comedy with Kevin Hart, is in theaters on Sept. 28, and she's reportedly currently in production for 2019 projects such as The Lego Movie 2: The Second Part and The Secret Life of Pets 2. Is it too soon to request another Saturday Night Live hosting gig for Haddish between the releases of Night School and The Oath?
It's a little too early to tell, but if Barinholtz and Haddish's film takes off, I think we're long overdue for a comedic equivalent of Meg Ryan and Tom Hanks in movies. This new duo has to be the recipe to success, right?The Oath is in select theaters on Oct. 12, 2018.