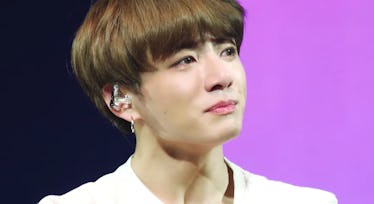 BTS' New Trailer For Their 'Love Yourself: Europe' Concert DVD Will Make You So Emotional
YouTube
If you thought that just because BTS' comeback album Map of the Soul: Persona is here, and that the boys are about to embark on their worldwide Love Yourself: Speak Yourself stadium tour that the BTS ARMY was ready to move on from fangirling over BTS' Love Yourself tour, you are very much mistaken. The trailer for BTS' Love Yourself: Europe concert DVD just dropped and it is as suspenseful, dramatic, and emotional for ARMYs as the tour was when it was still the freshest, newest thing the boys were doing. This is mainly because it heavily features a behind-the-scenes look at the emotional fallout that resulted from Jungkook suffering a foot injury while on tour in London. And everyone knows if Jungkook cries, we all cry.
The Europe-based trailer features J-Hope, Jimin, Jin, Jungkook, RM, V, and Suga greeting their fans in a variety of European languages. While much of the footage of the actual concerts might feel familiar, one thing is definitely out of the norm throughout this trailer, and that's Jungkook sitting down on stage. The teaser shows Jungkook down and out after suffering an injury to his heel backstage just before showtime in London. As ARMYs know, the members of BTS love nothing more than to perform, and you can see in the trailer that the sudden stress and shock of not being able to participate in the extensive choreography rocked Jungkook emotionally. Not only do fans see Jungkook break down, but V, too!
What is going on here?! ARMYs' hearts can't take it!
Jungkook begins to explain how stressful it was to want to perform and not be able to. In an English-subtitled version of the trailer, he is translated as saying, "An unfortunate incident occurred...," foreshadowing the emotional rollercoaster that's about to occur. Because, as ARMYs already know, he had to sit out of the big dance numbers for much of the tour while his foot healed. At the time, a variety of emotionally charged fan videos surfaced showing his bandmates consoling him on stage.
Prior to the boys' London concert, Big Hit Entertainment released an official statement explaining what happened and promised fans their beloved Jungkook was going to be OK, just simply taking the precautionary steps required to get better. Their statement said:
Jung Kook was lightly stretching in the waiting room when he collided with floor furnishings and suffered an injury to his heel. Medical staff immediately responded and performed the necessary treatment. The opinion of the medical team is that while the injury is not serious, performing choreography may do further damage to the injured area. Following the advice of the medical staff, Jung Kook will take part in the performance tonight but remain seated without choreography. We sincerely apologize to all of our fans who have been eagerly awaiting tonight's performance, and ask for your understanding.
When all this went down, fans weren't even able to see any of the emotional fallout going down behind the scenes, and were still emotionally wrecked by the whole thing. Just imagine how hard it will be to go through it all again with a behind-the-scenes perspective when this DVD drops on May 15. The only silver lining to watching what will surely be a heartbreaking emotional journey is that, based on the trailer, we'll also get to see how Jungkook's bandmates rallied around him in his time of need. *sob*
We aren't done with you yet, Love Yourself. Keep the content coming.