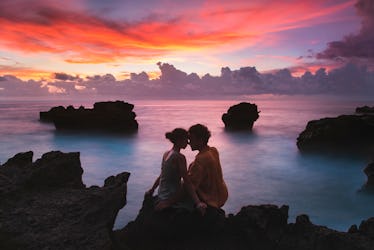 The Top Honeymoon Destinations On Insta Will Make You & Your SO Swoon
Your honeymoon location is almost as important as the wedding itself. It's the first place you and your new partner will be vacationing after matrimony. And since it's such an iconic time, you're going to be taking pictures like crazy. You'll want to know the top honeymoon destinations on Instagram throughout the world, because you and your bae deserve the best.
Some of these places don't even seem real, because it looks like Mother Nature spent countless hours, or even years, painting such picturesque environments. You're still basking in those post-wedding butterflies and any of these magical places will keep your mind feeling even more delightful. Your honeymoon is that fresh, real, and fun one-on-one time with the person you plan on spending the rest of your life with.
Hitched, a UK wedding planning website, did its own research by looking at more than 8,000 Instagram pictures with the hashtags #Honeymoon and #Honeymooners. From there, it was able to pinpoint which places were frequented or mentioned the most, and compiled a list of honeymoon hot spots with the appropriate rankings. And just like that, picking your honeymoon just got a whole lot easier.
As unforgettable as the wedding may have been, you're making more captivating memories during your honeymoon. You'll go on other trips with your partner throughout your marriage, but the first one is truly something special when you consider the freshly said "I do's" that have recently left your lips. Clearly, you'll have your eyes on your new partner for most of the honeymoon, but any of these Instagram-worthy places may refocus your attention for a bit, too.