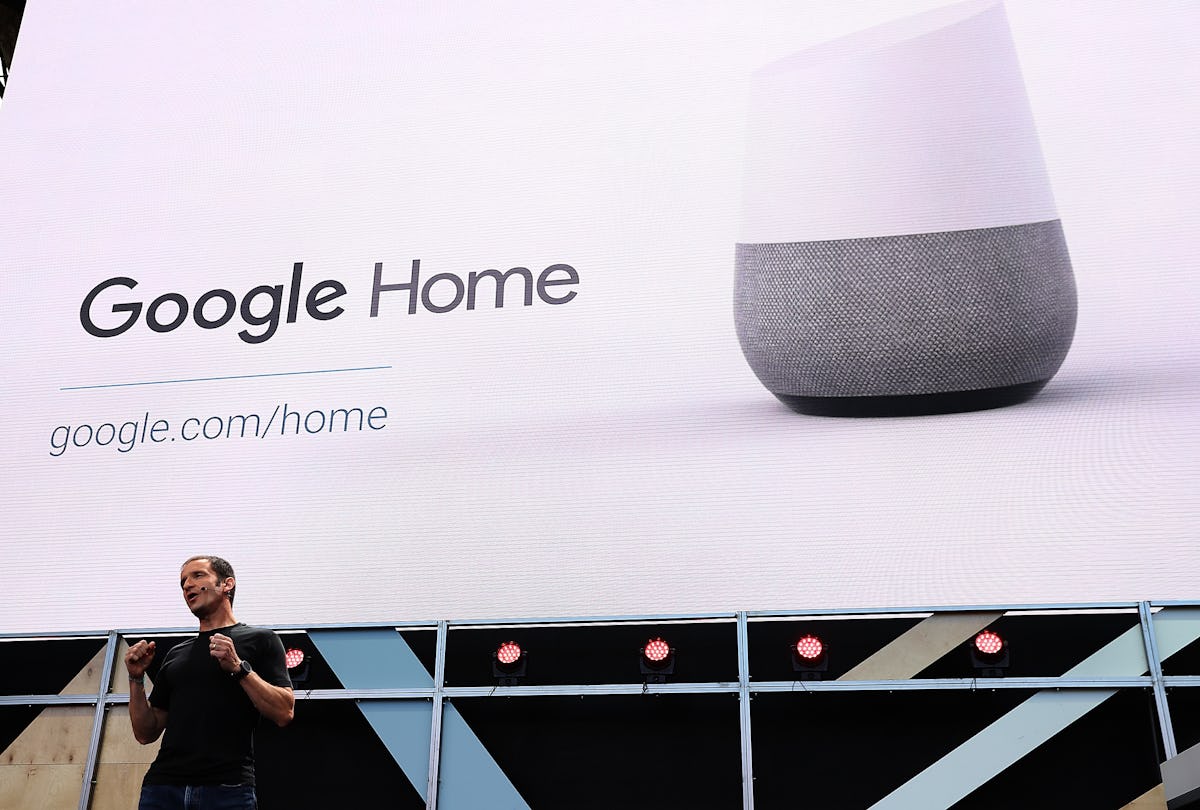 Everyone's Obsessed With This New Technology & The App Store Just Proved It
Justin Sullivan/Getty Images News/Getty Images
There were way too many perfect tech-related gifts to keep track of this Christmas. Between the iPhone X, the Google Pixel 2, and the Nintendo Switch, it seems like everyone's holiday was merry and bright with LED light. Some of these gifts required accompanying apps, and the top app store purchases from Christmas Day reveal just how many people found a certain type of shiny new tech toy under the tree this year.
The Alexa app topped the free app charts in a number of regions this year, according to 9to5 Mac. Not to be outdone, Google Home also made the top ten. Honestly, I can't say I'm shocked — it felt like everyone and their mother was buying a smart speaker for someone for Christmas this year. Actually, it felt like everyone was buying a smart speaker for their mother.
Considering how many new tech products launched this year, this spike in purchases of the two apps totally makes sense. Amazon improved the sound quality on its Echo speaker and also introduced the Echo Spot, the brand's second Echo device to contain a built-in LED screen, according to PCMag. Shortly after the launch of the Echo Spot and a number of other Echo devices, Google announced its own line of smart speakers with the Google Home family. The device comes in three sizes: mini, original, and max. Once Google marked the price of the Google Home Mini down to $29, it felt like everyone wanted to buy one.
These speakers came ahead of the highly anticipated Apple HomePod, which is — as you probably guessed — Apple's smart speaker. The device was supposed to launch in December, but the company has stated that the release has been pushed to early 2018. Perhaps the high volume of Google Home and Alexa purchases is related to eager fans who didn't want to wait for the HomePod. At $349, I can't say I blame them.
However, Apple might not be super concerned with the potential loss of sales from pushing the release back, as 9to5 Mac reports that they are positioning the speaker as a niche, premium home audio product, anyway. They also have sales of the iPhone 8 and iPhone X with which to measure their end-of-year success, so I doubt anyone is panicking over in Cupertino.
Among the other top-selling apps on the App Store are the FitBit, as anyone who has made a New Years resolution to get healthier (I see you!) could have probably guessed. The app consistently broke the top 10 best-selling free apps on Christmas Day. 9to5 Mac also notes that the amount of new devices unwrapped on Christmas Day leads to an increase in searches for popular "staple" apps like Instagram and YouTube, and the phenomenon did occur this year. In fact, at the time of publication, nearly every single free app in the top ten is a "staple" app, save for Alexa and Google Home.
Google kicked off the holiday season this year with a number of Black Friday deals, some of which technically started on Wednesday, Nov. 22, before the table had even been set for Thanksgiving. The company offered a 4-month free trial of Google Play (versus its standard 60-day free trial) for all of the music lovers out there. For the film buffs, Play Movies and TV offered 1-day movie rentals for 99 cents on Black Friday, and bookworms were blessed with $5 credit toward any purchase of more than $5 in Google Play Books. Between these deals and the release of their smart speakers, it's clear that the company is looking to become a household name far beyond its search engine. We're interested to see how both Google and Amazon continue to compete with Apple once the mysterious HomePod is released.
Check out the entire Gen Why series and other videos on Facebook and the Bustle app across Apple TV, Roku, and Amazon Fire TV.