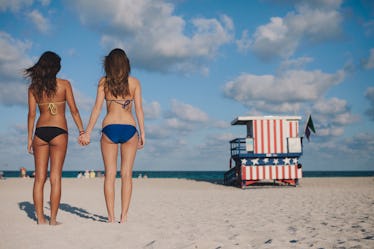 The Top 2018 Spring Break Destinations To Get Your Planning Going
There are so many exciting possibilities for spring break travels. Whether you're planning on kicking back and relaxing on the beach, trekking through some scenic AF mountains, or snuggling in your bed until you disappear, there are so many options to kick off the start of spring the right way. And if you're feeling a little unsure as to where exactly you're looking to go this year, here are the top 2018 spring break destinations. Honestly, if you're leaving your dorm this year to head to one of these destinations, please take pictures... I am seriously coming down with the worst case FOMO right now.
While trying to survive the super harsh winters of New York, I'm personally always down for a warm weather trip. Sinking my toes into the sand, running into the ocean, and of course, day drinking in the sunshine, sounds like literal heaven to me. If I have a cold drink in my hand while the sun is shinning, I am 100 percent happy. But the top spring break destinations also look at the bar scenes, prices, and the best possible deals you can get. So if you're planning the ultimate spring break trip with your friends this year, here are the absolute best places to go if you're under the age of 30, if you're just looking to get away for a good time.
1. Laguna Beach, California, USA
Laguna Beach has the perfect combination of culture, food, bars, and nature, Forbes suggests. If you're in the mood to tour some art galleries, the downtown area has a sweet art scene, but it also has a bumpin' night life, with a variety of super fun clubs, rooftop bars, and tiki bars. If you happen to be looking for a little more adventure, however, Forbes recommends trying out surfing at Aliso Beach Park, or taking a hike at Crystal Cove State Park.
2. Cancun, Mexico
It's no surprise that one of the most fun Mexican cities is considered to be a top spring break destination, right? Between a ton of beautiful beaches, a super lively bar scene, and several inexpensive all-inclusive resorts, there's no way that Cancun wouldn't be considered to be a freaking awesome time. Plus, who doesn't want their sprang break to be filled with margs, tacos, and guacamole? That honestly sounds like a sprang break dream.
3. Miami, Florida, USA
In the words of Will Smith, party in the city where the heat is on. Miami's South Beach draws so many college students every year, because of the super popular beaches, as well as the hella cheap food, and all of the amazing and inexpensive dive bars. Oyster.com recommends The Catalina Hotel for any and all ready-to-party college students, because it's relatively cheap, down by the beach, and it's downtown by the bars... definitely worth looking into for your stay.
4. Nassau, The Bahamas
While the Bahamas' sandy beaches and tropical blue water provide for some dope snorkeling, they're also relatively close to the U.S., making air fair costs much less harrowing. Giant resorts like Atlantis, per Travel Channel, make this a hugely popular destination, with so many fun activities to choose from. And, with a huge amount of tourism, there are a ton of fun sights to see, such as pirate forts and shore excursions.
5. Charleston, South Carolina, USA
Charleston is only a day's worth of driving, or a few hours on a plane ride outside New York City. It's warm, there are a ton of great bars and clubs downtown, and the city's history makes for a variety of fantastic museums and attractions, such as The Gibbes Museum of Art, or the historical Angel Oak tree. And, if you're all about those southern grits, the eats are pretty dope, as well.
Regardless if you're looking to party, hike, lay by the beach, or see some sights, each of these cities are a super good time. Just make sure to take some pics if you go anywhere, because I am currently freezing... and also jealous AF.