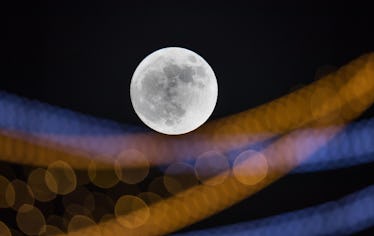 The Thunder Moon Meaning Reveals It Will Be Just As Dramatic As It Sounds
Matt Cardy/Getty Images News/Getty Images
We're deep in the month of July and all I'm thinking about is lounging by the pool, sipping mai tais at bars near the beach, and leaving it all behind with a golden tan as my summer souvenir. Living in Los Angeles, bad weather is currently the furthest thing from my mind, which is why the fact that the upcoming full moon is called a Thunder Moon is totally blowing my blissfully ignorant mind. Thunder? Lightning? If you're like me, you're already imagining Zeus using the full moon as an opportunity to strike down upon our Earth with great vengeance. You're probably also wondering Why? Well, after investigating the Thunder Moon meaning this year, I'm here to report that it'll be almost as dramatic. Almost.
If I'm skipping way ahead here and you're actually just wondering where in the world the full moon got such an ominous name, look no further than Native American culture and history. As the story goes, colonial settlers learned of the glowing titles given to each full moon out of the year by various Native American tribes, according to TimeAndDate. Though these names were originally written in their respective languages, they've since been rebranded for mass consumption in English, carrying immense meaning in our overall cultural consciousness ever since.
And where does the name Thunder Moon come from, exactly? Well, as it so happens, July is a time of intense thunderstorms all throughout the country, especially in the East Coast. Because thunderstorms are such a defining characteristic of this month, according to Farmer's Almanac, the full moon remains truthful to its name.
As Native Americans naturally did not abide by our 365-day Gregorian calendar, they used the lunar cycle to mark shifts in time. When the full moon marks the ending of that cycle, it makes sense that its name would reflect imagery from the month in question. Like last month's Strawberry Moon, which reflected the abundance of strawberries blossoming around the time of June, the Thunder Moon represents July with just as much ethereal accuracy.
To make things even more interesting, the Thunder Moon has more than just one name. It's even more popularly known as the Buck Moon, which in my opinion, has such a more peaceful tone. Conjuring images of soft green forest and families of deer passing through, the energy it evokes is more calm than galvanizing. As you can imagine, the Buck Moon has a lot to do with bucks. According to TimeAndDate, July is also the month in which a bucks antlers begin the process of growth after shedding the antlers they grew last year.
If you don't like the name Thunder Moon or Buck Moon, you've also got Hay Moon and Wort Moon, just because you can never have enough options for adding a twist of magic to the upcoming full moon.
While lightning won't be launched like spears by Greek gods and Sailor Jupiter won't fight evil with her electric super powers, the Thunder Moon definitely has a cosmic showdown in the form of a total lunar eclipse. Not only will this full moon be made of thunder, it will also be made of blood. OK, so not literal blood — just the longest blood moon of the century, of course.
Occurring in the sign of Aquarius, this blood moon announces a dramatic shift; the end of the something you held dear and the beginning of something new and exciting. Reaching totality at 3:30 p.m. EST until the red hue will begin fading off at 5:13 p.m. EST, you have a solid amount of time to contemplate the moon's eerie beauty and all the transformations taking place in your unique and important life.