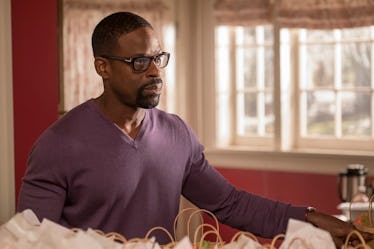 You Can Call Your Favorite Pearson Using The 'This Is Us' Phone Number & Things Will Be OK
When we were little, we all had those toys who could utter recorded sayings, right? Even if it was just a teddy bear saying, "I love you," these toys were great comforts if we had a nightmare or just needed a cuddly hug. Emphasizing that it's practically the televised equivalent of your bedraggled Winnie-the-Pooh, This Is Us has introduced its own coping tool for the emotional Season 2 finale set to air on Tuesday, March 13. The This Is Us finale phone number will allow viewers to call a certain Pearson family member as "The Wedding" airs on TV, and I'm already imagining Sterling K. Brown's soothing voice on the other line.
Sending out a tweet on March 12, the This Is Us Twitter account welcomed fans to call a phone number and receive a message from the show's characters. According to some fans who have already tried out the number, calling leads you to a prerecorded message from Brown, aka Randall, thanking you for your appreciation of the show:
We just want to thank you for coming along on this journey. We're going to miss you over the break, so we want to keep in touch. Leave us a message and call back anytime. We're here for you. Talk to you soon.
All the message needs is that sweeping This Is Us music and Brown could easily scoop up an Emmy for that recording alone. There's still some time for edits before the finale, producers!
While calling the number isn't as interactive as fans may initially think, the show definitely deserves some points for creativity. Even though the message is clearly from a real-life Brown rather than the fictional Randall, smaller details have been made to incorporate the Pearsons. As one viewer pointed out, the number includes a Pittsburgh area code. Although none of the Pearsons currently live in Pennsylvania, I'm telling myself that Randall has never bothered changing his number in honor of the family's beloved Pittsburgh Steelers.
Those who have heard the recording are obviously touched. If This Is Us can get people this wound up over a 15-second call, I can't help but wonder how emotional I'll be watching the Season 2 finale.
This genuine outreach to fans comes right as Mandy Moore, Milo Ventimiglia, and several creative team members appeared on a panel about the show at the South by Southwest Film Festival (SXSW) in Austin, Texas. The show's Twitter account also live-tweeted bits of the conversation for fans not in attendance, revealing secret tidbits about the history of This Is Us.
In case you didn't already know that Ventimiglia and Moore are quite possibly the sweetest people alive, they apparently went the extra mile to include the youngest Big Three actors in the cast's recent Outstanding Performance by an Ensemble in a Drama SAG award.
Some of the child actors didn't have enough screen time to qualify for this group award, so Justin Hartley and Chrissy Metz brought mini-mes Parker Bates and Mackenzie Hancsicsak as their SAG Award dates. Thus, all three reincarnations of the Pearson triplets were onstage at the SAGs to accept the surprise award. Leave it to Mama and Papa Pearson to make the experience even greater for their littlest castmates.
Those at the SXSW panel also spilled that well-known TV actors Wendie Malick and Dan Lauria will appear in the Season 2 finale as Toby's parents. Malick is best known for her roles in Hot in Cleveland and '90s series Dream On, while Lauria played a more reserved, traditional father on The Wonder Years. In case you aren't familiar with Wonder Years, it's also one of those shows that inspires ugly crying, so I'm thrilled about this particular casting.
Given this casting news, I may be more invested in staying glued to the finale than I am in calling the special number tonight. But that being said, setting up this phone number was such a sweet and unique way for This Is Us to thank its fans.
The Season 2 finale of This Is Us airs on Tuesday, March 13, at 9 p.m. ET on NBC.