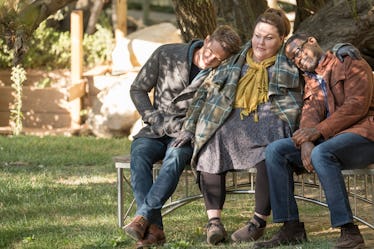 Here's What The 'This Is Us' Cast Looked Like Before They Were Famous
RON BATZDORFF/NBC
I never want to go back to a world with no This Is Us, but one upon a time... that world existed. There was life before Chrissy Metz, Sterling K. Brown, and Justin Hartley were known at The Big 3 and Milo Ventimiglia and Mandy Moore became Mr. and Mrs. Pearson. Looking at the This Is Us cast then vs. now really reminds us how far these actors have come.
There's no doubt that NBC's family drama mega-hit has helped its cast reached new career heights. It's one of the biggest primetime network success stories of the past decade, an awards show darling, and watching the ensemble do their thing is like watching a master class in acting week after week.
Last May, Mandy Moore took to Instagram to express her gratitude for the show and explain its impact. "I can't even begin to comprehend how much life has changed over the course of these past 12 months but I sure am super grateful," she wrote. Yes — This Is Us is a life-changer of a show. But let's go back to the days before the addictive series dominated the TV landscape. What was the cast up to prior to the show? This is them.
Mandy Moore
Mandy Moore was one of the more memorable artists from the TRL-boosted pop boom of the late '90s/early 2000s and she went on to star in This Princess Diaries, Saved, A Walk to Remember, among other films. Her 1999 video for "Candy" is a veritable visual time capsule of the era's fashion sensibility — look at that CD player accessory and that hair. ICONIC.
Milo Ventimiglia
Were you #TeamJess on Gilmore Girls? To keep it real, I always thought he was kind of a cocky jerk who used sarcasm and intellectualism to mask his insecurities, but whatever. Ventimiglia won the hearts of fans everywhere when he stepped on to the scene as the broody nephew of Luke Danes on the teen drama hit. Now he rocks a mustache (and sometimes even a goatee situation) playing Husband/Father of the Century, Jack Pearson.
Sterling K. Brown
Michael Loccisano/Getty Images Entertainment/Getty Images
Sterling K. Brown studied at Stanford before following his dream of becoming an actor. The passion paid off — following roles on shows like Third Watch, ER, Army Wives, and Person of Interest, Sterling landed This Is Us and the rest is Emmy-winning history.
Back in 2006 and 2007, Sterling had a recurring stint on Supernatural.
Chrissy Metz
Before playing Kate, Chrissy Metz appeared on shows such as Entourage and My Name is Earl. The talented actress eventually nabbed a recurring role on American Horror Story in 2014.
Chris Sullivan
Oh, Toby. You're not an official Pearson but I love you anyway.
And, yes — that was the adorably charming Chris Sullivan was on Stranger Things as murdered diner owner Benny. Sullivan is also an accomplished theatrical performer, having appeared in musicals like Chicago and Nice Work If You Can Get It.
Susan Kelechi Watson
Peter Kramer/Getty Images Entertainment/Getty Images
Beth is This Is Us' unsung heroine (OK, everybody enjoys her immensely) — what would the show be without her words of wisdom and wit? Susan Kelechi Watson's career was on the rise even before she became part of the This Is Us family. The triple-threat was perhaps best known for her role as Janet on Louie, but she also worked on Third Watch, The Blacklist, and over a dozen other projects.
Jon Huertas
Miguel is a polarizing character for obvious reasons — the former BFF of the deceased Jack is married to Rebecca in the present-day. But he's grown on us, thanks to his heart-to-hearts, those goofy dad jokes, and the fact that he watches Tiny Houses. Actor Jon Huertas should be recognizable for many reasons. The longtime actor has starred in tons of projects since the early '90s, including Moesha, Sabrina, The Teenage Witch, and Castle.
This Is Us casting directors — we thank you. What a special ensemble you've created. We can't imagine it coming together any other way.