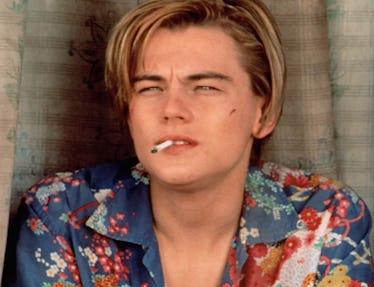 The Teenage Heartthrob The Year You Were Born Proves The '90s Were So Lit
20th Century Fox
The teenage heartthrobs of the '90s are all icons in their own right. Sure, not all of them have big Hollywood careers anymore and just had their 15 minutes of fame stealing the hearts of teens throughout the best decade there was (don't fight me on this), but they are forever cemented in the hearts of millennials for all the #goodcontent we happily consumed throughout the weird TV years that were the '90s. The teenage heartthrob the year you were born says so much about the state of pop culture during that given year, it's truly thrilling to look back on.
Say the words "'90s teen heartthrobs" to any millennial and the names Jonathan Taylor Thomas, Justin Timberlake, Luke Perry, Mario Lopez, and more all come to mind immediately. This decade truly was the decade of the stan — everyone had one favorite TV crush they fixated on and obsessed over (if you were me, you had J.C. Chasez posters all over your bedroom, and your older sister heartbreakingly chose Lance Bass). No matter who your heartthrob of choice was, however, we can all #connect over the fact that the '90s truly were the weirdest yet simultaneously magical time to be alive and consume television. Let's break these '90s heartthrobs down by year, shall we?
1990: Luke Perry
You know Archie Andrews' dad, Fred Andrews, on Riverdale? Homeboy started out as a '90s heartthrob. That's right, your favorite TV DILF was one of the original stars of Beverly Hills, 90210 that aired from 1990-2000.
1991: Joey Lawrence
Sure, the best Lawrence brothers content was Brotherly Love and all of their Disney Channel Original Movies, but Joey Lawrence was the first of his brothers to make it big when he starred in Blossom from 1990 to 1995 alongside Big Bang Theory actress Mayim Bialik.
1992: Brian Austin Green
The entire cast of Beverly Hills, 90210 were iconic throughout the '90s, so they're getting a second cast member on this list. Green is married to Megan Fox (with whom he has three children). Meghan once acknowledged her husband's '90s heartthrob status by posting a throwback photo of her man to her Instagram. Her caption read, "Thank you for donating your DNA to the shared dream of birthing our own colony of teen heartthrobs. #mcm#colonymission." I love every damn thing about this.
1993: Jaleel White
Steve Urkel might've been TV's most iconic nerd in the '90s (and honestly, still today), but Stefan Urquelle (both characters played by Jaleel White) shook heartthrob stans everywhere whenever he would appear on Family Matters throughout the show's duration.
1994: Mario Lopez
When it comes to Saved By The Bell, you were either #TeamZack or #TeamSlater. This writer is #TeamSlater and that's that. Cut, print, moving on.
1995: Justin Timberlake
1995 was the year *NSYNC's debut album was released, and the world (read: my world) has never been the same ever since. While Timberlake was a teen heartthrob throughout most of the '90s and early 2000s, we're placing him in 1995 because that was the beginning of it all.
1996: Leonardo DiCaprio
This is probably my second most controversial opinion (outside of Parks & Rec being better than The Office, of course. Because it is. Go ahead and @ me. I will defend this until the day I die). Listen, I have literally fought with people over which Leo era is the best era, and I don't care what anyone says, Romeo + Juliet Leo is unmatched. Yes, Titanic is what locked in Leo's heartthrob status forever, but he is criminally overlooked in Romeo + Juliet just because lots of people aren't into Shakespeare. Criminal, I tell you!
1996, Part 2: Tatyana Ali
This list wouldn't be complete without the female heartthrobs of the '90s, and Tatyana Ali from The Fresh Prince of Bel Air is undeniably one of them. The actress played Ashley Banks from 1990 to 1996 and was one of the most beloved characters on the show.
1997: Jonathan Taylor Thomas
Let's be real, JTT was the king of '90s heartthrobs and could fit into most of the years on this list, but we'll say 1997 JTT was the peak because it was just before he started to turn away from acting in order to pursue his Bachelor's degree at Harvard. Swan song JTT is the best JTT.
1998: Prince William
I don't know about other siblings, but my older sister and I spent a great deal of the late '90s obsessing over which prince we liked more, William or Harry, but the majority was in favor of good, old William. Just about every girl I knew back then dreamed of randomly running into either Prince William or Harry one day as if they were one of the Olsen twins traipsing around on a European vacation (like that stuff actually happens), but that was only in the cards for one American woman. And her name is Meghan Markle. The glow-up is real.
1998 Part Two: Jennifer Love Hewitt
Jennifer Love Hewitt was one of the '90s favorite stars in 1997 and 1998. She starred in the classic scary movie I Know What You Did Last Summer in 1997 then the iconic Can't Hardly Wait in 1998. You can't talk '90s heartthrobs without making sure her name is included.
1999: The Cast of 10 Things I Hate About You — Heath Ledger, Andrew Keegan, Joseph Gordon Levitt, Julia Stiles, and Gabrielle Union
The iconic 10 Things I Hate About You came out in 1999, and every guy (and girl) in the movie further solidified their heartthrob statuses as a result. If I had to put these three guys in order, the order would obviously be Heath Ledger, Andrew Keegan, then Joseph Gordon Levitt. I won't even try to put Gabrielle Union and Julia Stiles in order because their heartthrobiness cannot be ranked. This group's performance in the classic '90s rom-com makes it impossible to choose just one of them.
2000: James Van Der Beek & Joshua Jackson
Another tie, Dawson Leery and Pacey Witter were beloved by many throughout all of Dawson's Creek from 1998-2003. The show was a cultural staple by 2000, so these two heartthrobs are being placed in the final year of this heartthrob roundup.
Now, if you'll excuse me, I need to go watch literally all of these shows/movies because this has got me feeling hella nostalgic.