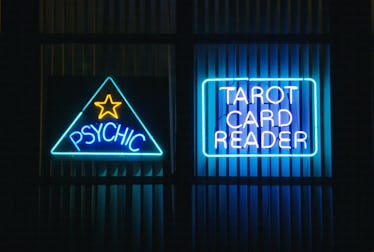 The Tarot Deck You Should Purchase, According To Your Zodiac Sign
If you're anything like me, then you're completely fascinated by all things esoteric. Have you ever gotten your tarot cards read? (Maybe you can read them to yourself; I know I have.) However, before I reveal which tarot deck you should purchase, according to your zodiac sign, let's dive a little deeper into the tarot. For starters, the tarot is a spiritual tool utilized by our very ancestors, years and years ago. This ancient practice connects with a person's life energy, in a specific moment in time. Learning the tarot can be incredibly spiritual and validating, as you are given unique insight to concerns, and life situations in general.
Each of the cards have a meaning and spiritual symbolism; however, in due time, you will come up with your own interpretation. This, of course, is when it starts to get fun. Truth is, once you get your hands on a deck, and actually start dabbling into the magic of tarot, your intuition will sky rocket; it's only a matter of time, trust me. The fact that you're taking the time to sit with yourself, your deck, and spirit, you are allowing your intuition to speak for itself. That's what I like to call, working your craft. With that said, here's the tarot deck you should consider, according to your zodiac sign:
Aries
Nothing says Aries more than "She Wolfe," right? Not only is this deck totally gorgeous, but it also depicts the theme of Goddess power, Ancient Egypt and dreamy vintage imagery. Designed by artist and writer Devany Wolfe, the She Wolfe tarot is bold, luscious, and overflowing with divine flavor. Sound familiar, Aries?
Taurus
This majestic deck is a must-have for the Queen of Venus herself. In fact, fellow Taurus goddess and Bruja extraordinaire Bri Luna, creator of The Hoodwitch, says it's "one of the most powerful and brilliant decks I've ever worked with!" Manzel's tarot is the culmination of African themed works by Manzel Bowman and the original allegorical motifs of the late 15th Century deck. Granted, this isn't the most affordable deck; however, aside from the featured art being absolutely stunning, the 78 card gold gilded deck was printed on GSM linen card stock with a matte lamination, so you can just imagine the quality finish. Plus, they also sparkle in the sun!
Gemini
The Pastel Magic tarot deck is colorful, eclectic, and full of information - just like Gemini. There's nothing this air sign loves more than to be mentally stimulated, and the entire theme of this 78-card deck, is everything they need to keep busy. The witch is in!
Cancer
Cancer is a child of the ever-changing moon, and this Moon Power deck will be their new best friend. This water sign is highly intuitive, as they are known for inheriting their clairvoyance from the maternal side of their family. Are you ready to make your great-great-great grandmother proud, Cancer babe?
Leo
This deck has Leo's name written all over it. It's loud, flamboyant, and oh-so-magical. It features 78 cards, holographic edges, and FREE access to the Mystic Mondays App. Belated birthday gift for Leo?
Virgo
Feeling witchy, Virgo? The Fountain tarot is a re-envisioning of the classic tarot deck, bringing the traditional archetypes and symbolism of tarot into a contemporary context. It's time to start channeling your inner priestess, Virgo.
Libra
Did you know that Libra is the seventh sign of the zodiac? I know, this deck couldn't be more appropriate. Plus, how gorgeous are these images, though? This charming deck is based off the European tarot de Marseille, which for the record, oozes all things Venus.
Scorpio
Who's the witchiest witch of them all, Scorpio? I know, you are, which is precisely why you need this glam goth tarot deck in your life, ASAP. The name of the deck is "Golden Thread Tarot: A Light in the Dark." Are you obsessed yet?
Sagittarius
There's nothing Sagittarius loves more than the unknown. This wild deck was designed by Kim Krans, and features 78 cards loaded with intricate magic and mystery — which we all know happens to be right up Sagittarius' alley. Are you ready, Sag? Adventure awaits.
Capricorn
This deck of cards is oozing Capricorn vibes. There's nothing this earth sign loves more than tradition, and the red and black aesthetic gives the tarot deck rustic and vintage feels.
Aquarius
Aquarius loves to rebel, and these electric Cosmic Cards might just do the trick. This epic deck isn't an ordinary tarot deck; on the contrary, it features original artworks by graphic designer Julie Catona, owner of Future Illustrations, and powerful mantras. The water bearer loathes tradition, and this deck is totally rebellious. Get enlightened, Aquarius.
Pisces
Intuition is an understatement when referring to Pisces, and the Luminous Spirit tarot deck, for that matter. Not only is this deck an iridescent masterpiece, it's also incredibly receptive to energy, just like Pisces. I have this deck, and it's honestly opened up a whole new world for me. The app is also really helpful and user friendly.