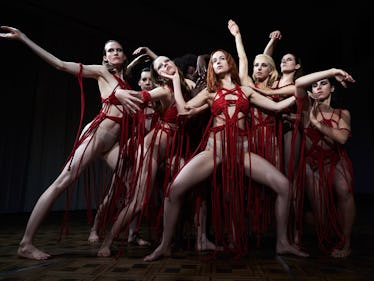 The 'Suspiria' Ratings Prove It's This Year's Perfect Scary Halloween Movie
Amazon Studios
Halloween arrives next week. This year it comes on a weekday evening, leaving this coming weekend as the time for celebrations. There will be costume parties, Halloween parades, and, of course, scary movies. While some will surely prefer to see Mike Myers and Jamie Lee Curtis go at it one more time, those in need of a good horror fix would do well to check out Suspiria, a remake of one of the most frightening films on the 1970s. These Suspiria ratings on Rotten Tomatoes promise it's the most terrifying thing at the cinema this year.
The original Suspiria was foreign horror import from Italy, which arrived in 1977. Based on the 1845 Thomas De Quincey's essay Suspiria de Profundis (Sighs from the Depths), it was actually part of a planned trilogy but became director Dario Argento's most acclaimed film.
The story centers on an American ballet student who enters a prestigious dance academy in Germany. When she arrives, she discovers it is a front for a coven of black magic practitioners and occultists, who murder anyone who finds out their secret. The original film has a 92 percent fresh rating on Rotten Tomatoes. The remake is still fresh, though not as highly acclaimed, with a score of 72 percent fresh.
One of the reasons it's not rated quite as high as the first one, says USA Today, is it's a film for horror watchers of a particular taste:
Suspiria is bound to alienate some. Actually, probably many. However, those with a penchant for the new wave of psychological horror and a healthy respect for B-movie camp will love this thing to the crazy last dance.
Rolling Stone says the movie is a mess, but a striking one:
Luca Guadagnino's re-imagining of Dario Argento's 1977 horror classic about a dance academy run by witches is a maddening mess-all that subtext- and also totally mesmerizing. Brava, Tilda Swinton!
RogerEbert.com promises it will stay with you.
You will stagger out of the theater wondering what exactly you just saw, but you will not easily forget it.
And FilmFreakCentral says it's a film based in the horror of how women treat each other in traditionally feminine spaces.
Befitting a Jungian text, Suspiria's subtext is teeming with archetype, obsessed with the violent power of female relationships and rituals.
As for how the film is expected to do this weekend in the theater, a horror movie of this nature is considered to be "specialty box office," as it's opening in only limited release alongside arriving on Amazon streaming. This suggests Amazon sees it as the kind of movie prime members will opt to watch at home, leaving Halloween, Mike Myers, and Jamie Lee Curtis to reign supreme on the big screen for its second weekend. But the release date and the debut of the film at the Venice Film Festival back in August suggest it will be a contender come awards season this year.
Suspiria arrives in limited release at the box office and streaming on Amazon Prime this weekend, starting on Friday, Oct. 26, 2018.