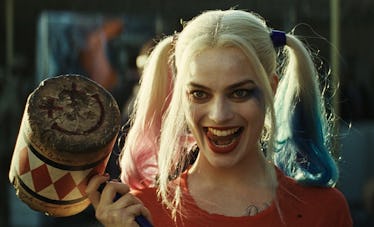 Harley Quinn's 'Birds Of Prey' Movie Just Revealed It's Long, Ridiculous Full Title
Warner Bros
DC Entertainment is going in an unexpectedly silly new direction with its dark superhero movies, at least according to the newly revealed full title of its upcoming Suicide Squad spinoff, Birds of Prey. Margot Robbie shared a first-look photo at the movie that will star her twisted character Harley Quinn, and it included a much longer and stranger title than fans had anticipated. Harley Quinn's Birds of Prey movie full title teases a whole new direction for the villainous portion of DC's movie universe.
On Tuesday, Margot Robbie posted a photo of the cover page for the script of her upcoming Birds of Prey movie on Instagram, and under the three-word title, Robbie scrawled the parenthetical subtitle "(and the Fantabulous Emancipation of One Harley Quinn)." Because it was added in pen and not actually typed up on the script page, it was not immediately clear whether this would be the official subtitle for the movie or a joke added by Robbie. But now, Warner Brothers has confirmed to The Hollywood Reporter that the official title for the movie is indeed Birds of Prey (and the Fantabulous Emancipation of One Harley Quinn). Try to say that mouthful five times fast.
Not only is the title seemingly a jokey nod to another bulkily titled avian movie — 2014's Birdman or (The Unexpected Virtue of Ignorance) — but it also offers some insight into the direction the new movie will take. Since Birds of Prey centers on Harley Quinn forming a new band of superpowered women, rather than sticking by the side of the Joker as she is most famous for doing in DC lore, we know that her big breakup with Jared Leto's Joker will be a central element in the movie. The subtitle also seems to reveal that the movie will focus much more exclusively on Harley Quinn's story, rather than being a true ensemble film.
Although the newly revealed title hints at the Joker being a main influence on the movie, Jared Leto is not yet confirmed to reprise his villainous character in the spinoff. Birds of Prey will also star Ella Jay Basco as Batgirl, Jurnee Smollett-Bell as Black Canary, Mary Elizabeth Winstead as Huntress, Rosie Perez as Renee Montoya, and Ewan McGregor as Black Mask.
Birds of Prey is the next of several movies that DC Entertainment has in the works that focus on Margot Robbie's Harley Quinn. The studio is currently developing a sequel to 2016's Suicide Squad, as well as a Gotham City Sirens feature focused on the character of Harley Quinn, Catwoman, and Poison Ivy, and there are also plans for a standalone spinoff focused on the Joker and Harley Quinn. It is safe to say that fans will be seeing Margot Robbie's Harley Quinn an awful lot in the near future.
But we will still have to wait a while before we will see Harley Quinn return in Birds of Prey (and the Fantabulous Emancipation of One Harley Quinn). The upcoming movie is scheduled to come out on Feb. 7, 2020.