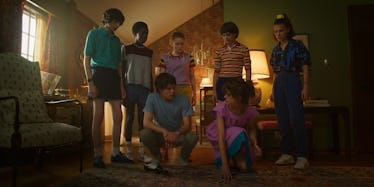 The 'Stranger Things' Season 3 Promo Pics Have A TON Of Hidden Details
Netflix
It's been a long wait since the fall of 2017, but the trailer for the new season of Stranger Things finally arrived this week, along with the first promotional images from the new season. School's out for summer just before the gang head to Hawkins High School for ninth grade, while the older set of cast members are either graduating or rising seniors this year. Everyone is growing up and these Stranger Things Season 3 promo pics are as much a snapshot of the awkward puberty phase as they are clues to the new season.
Seriously, the first thing about these images that got me is how much everyone has grown in the last 18 months since Season 2. Mike (Finn Wolfhard) is especially hard hit, as is Will Byers (Noah Schnapp), who is finally not the shortest in the group anymore. Also, the girls' styles are just so on point with the rainbow sleeves, the top scrunchie ponytail, and Nancy's perm, which looks like she stole the hair off the head of Jennifer Grey in Dirty Dancing.
However, once fans get past the growth spurts and the outfits, the story these images suggest that things are not going well in Hawkins this summer.
Here are the promotional images: