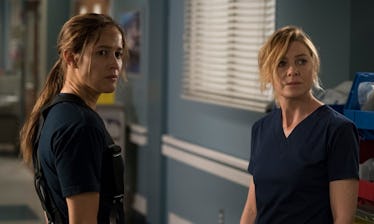 The Trailer For The New 'Grey's Anatomy' Spinoff Is Here & It Looks Amazing
ABC/MITCH HAASETH
ATTENTION: Stop what you're doing right now. The long awaited trailer for Station 19 has finally arrived, and holy cow we're in for a completely wild ride. Shonda, why do you keep doing this to us??
The two-minute trailer shares a small taste for what we can expect for the Grey's Anatomy spinoff, and that's steamy romances, near death experiences, high-flying jumps, fiery explosions, and even a Meredith Grey appearance.
But the most chilling part of the trailer? In the end where Andy Herrera, played by Jaina Lee Ortiz, puts that boss face on and tells her station "we're Seattle firefighters. Station 19 is where we choose to be."
Andy Herrera is already an icon in my book.
The crossover isn't necessarily a surprise, since according to Entertainment Tonight, creator Stacy McKee confirmed that the spinoff would cross over with the medical drama. After all, the station is only three blocks down from Grey Sloan Memorial Hospital.
She said,
It was a priority for me in thinking of this as a Grey's Anatomy spinoff that it works hand in hand with Grey's in tone and intensity and humor and heart. But there's also the added element to this show that the hospital setting doesn't allow, which is a lot of our characters on-site. They're in the middle of action sequences, so there's a certain level of adrenaline and energy that comes with that that you don't necessarily find in the same way as Grey's — you find it in different ways. It's very similar in tone and spirit, but also a little bit different as well.
My body is both ready and not ready. Is that possible?
The announcement of the Grey's Anatomy spinoff came in May 2017, and since fans have been waiting day by day for updates about the release. On Jan. 25 the name Station 19 was revealed and now a week later we are being #blessed with a trailer. This is actually happening, y'all.
The first season will consist of ten episodes and will follow Ben Warren, played by Jason George, after he steps away from his position at Grey Sloan Memorial Hospital to pursue a career as a firefighter. In addition, Andy Herrera, played by Rosewood's Ortiz, will be starring alongside George. In the trailer, Herrera steps up to fill the shoes of her father after he steps down as Captain.
While Station 19 is sure to have much success on its own, the new series will take elements of Grey's Anatomy to ensure it has that special Shonda spin on it. George spoke to Entertainment Weekly about the similarities between the two series.
There's so much that's familiar to Grey's fans, but when Ben is in the OR, he needs his team and friends that are his extended family to back him up so he can save this person's life, but out in the field as a firefighter, he needs his team to save his life or he needs to be there to save their lives. They're backing each other up as well as saving other people's lives. You screw up, you don't lose somebody that you met an hour ago, you screw up, you lose your best friend, your brother, your sister, and that's an extra level that hasn't been introduced in the Grey's universe yet.
It's sure to be intimidating introducing a new spinoff to the Shondaland audience, but history has shown that they fare pretty well. ABC series Private Practice, which ran for six seasons before calling it quits, followed the storyline of Addison Montgomery, played by Kate Walsh, as she took her medical skills to sunny Los Angeles.
Station 19 is set to launch with a two-hour premiere on March 22 9 p.m ET. As if our Thursdays weren't already booked enough.