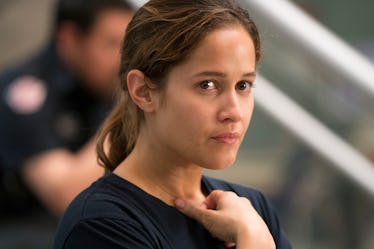 The 'Station 19' & 'Grey's Anatomy' Crossover Is Going To Be So Badass, So Don't Miss Out
Before you spill your popcorn in reaction to the Scandal and How to Get Away with Murder crossover later tonight on ABC, keep an eye out for your sneak peek at the upcoming spinoff series Station 19 in the new episode of Grey's Anatomy. Before Station 19 officially premieres on March 22, its heroine will appear in the Station 19 and Grey's Anatomy crossover on March 1, adding to the Shondaland sorority of badass women at the helm of ABC's TGIT dramas.
Lead actress Jaina Lee Ortiz headlines the new series as Andy Herrera, the daughter of a Seattle fire station chief who finds herself in charge of their team after her father suffers a crucial injury. In the March 1 episode, before any introductions to the other firefighters are made, Andy shows up at Grey Sloan Memorial Hospital with rookie squad member Ben Warren and is forced to keep a hand on a bleeding patient's wounds in order to save his life.
Ortiz spoke to Entertainment Weekly about Andy's quick adjustment to the fast-paced hospital and how the atmosphere differs from her usual high-stakes environment in battling fires:
She's basically in someone else's house, and she has no idea what to do. It's scary and stressful. I mean, I'm excited; I don't know if Andy's excited, but in a way, Andy lives for the adrenaline. It's everything she knows. In this particular situation, there's this panic. Andy's so used to just stopping and dropping off the people at the hospital, not ever having to go inside and finish the job. So it's scary, but also very fascinating.
While Andy's inaugural appearance only scrapes at the surface of her character, the Station 19 trailer delves into what's to come for her. Andy and Meredith Grey first meet in tonight's episode of Grey's Anatomy, but it looks like Meredith will appear again in the new show's pilot later this month. You've got to love it when spinoff series settings are geographically close to the original show!
Both Andy and Meredith have an inborn advantage when it comes to their respective fields – they each have parents who met great success in the professions their children would eventually pursue. Ortiz spilled that the two women will develop a bond during their hectic first meeting that lasts into the run of Station 19.
Eventually, we'll get to discover that they have similar life experiences growing up. I think they're both bonded because emotionally there are things that females go through in their industries. A lot of it tends to be bottled up inside, but when you have another female who can connect with you and feel what you're feeling, there's this instant sisterhood that evolves and develops.
While the veteran, battle-scarred Meredith may seem to take on a maternal, tough-love approach toward Andy, Ortiz also thinks the two are far more similar than viewers would initially believe.
I feel like they're both independent, strong, successful, smart women who just want to be the best in their profession. They're human. At the end of the day, they're not perfect, they're going to make mistakes, they're going to fall, and eventually have to get back up. But when you have that support, when you have someone there, it makes life easier.
I'm all for women supporting other women, so Andy developing a sort of mutual respect with Meredith is totally enough for me to tune in. The relationship also seems to have continued off-screen, with Ortiz sharing that Ellen Pompeo has advised her on how to deal with the huge opportunity:
The best thing I got from her is to take care of myself. Obviously, the schedule of drama TV is very hectic, and it involves putting in 70 hours plus a week, so she advised me to take care of myself, eat well, get rest, and make sure that I'm prepared and ready and available to perform at my best, just so that I can be there for everyone else in the show. That was what I took away.
Count me in as an immediate fan of Ortiz. Keep an eye out for her as Andy in Grey's Anatomy at 8 p.m. ET on ABC on March 1. She and the rest of her cast appear in Station 19, which premieres on Thursday, March 22 at 9 p.m. ET on ABC.