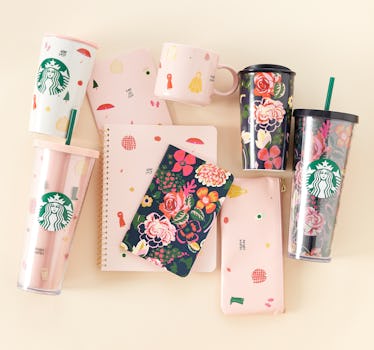 The New Starbucks x Ban.do Fall Collection Will Let You Sip Your PSL In Style
Now that September is officially here, it's time to get hyped about fall. Like always, Starbucks is making it easier to transition into the chilly season, and I am forever grateful. In addition to bringing back its PSL, the company recently announced a brand new fall accessory lineup that'll put you in the autumn spirit. The lineup features an adorable collaboration between Starbucks and ban.do, and it'll help you sip your PSL in style. Seriously, if you haven't heard about the Starbucks x ban.do fall 2018 collection yet, grab your coffee and read up.
If you're a fan of both brands, the collaboration might look familiar to you. This isn't the first time Starbucks and ban.do teamed up, but it is the first time the collection will be available in the United States and Canada. In case you didn't know, Starbucks and ban.do have released collaborative lineups in the past, but they've only been available in Asia. Thankfully, the companies' newest release will be available in U.S. and Canadian stores starting on Sept. 5, according to a Starbucks press release.
In other words, you won't have to hop on a plane and travel across the ocean in pursuit of the fall-inspired collection. Instead, all you'll have to do is walk into your local participating Starbucks store (including locations in airports, grocery stores, and hotels). The Starbucks x ban.do collection will be available while supplies last, so act fast.
Now that you know the important details about the Starbucks x ban.do U.S. release, let's talk about what the collection features. According to Starbucks, the lineup includes Cold Cups, Double Walled Travelers, mugs, a pencil pouch, and notebooks. TBH, it seems like a college kid's dream come true, and I'd hop on it if I were still in school. Could you imagine rolling up to the library with one of these Cold Cups in one hand and a notebook in the other? Talk about fall fashion.
Not only are the collection items cute AF, but they're also fall-themed. In case you're having trouble seeing the details, I'll fill you in on the icons that are featured on the millennial pink-hued accessories. The featured autumn illustrations include scarves, flannels, leaves, pumpkins, Starbucks coffee cups, and more. Sipping on a mug covered in those illustrations is sure to put you in the autumn spirit, am I right?
(Especially if you're sipping on a PSL.)
The pink fall-themed merchandise might not be your thing, though — and that's OK. You can go for the midnight floral design, but it might be a little bit harder to find. According to Starbucks, the midnight floral accessories are only available at Target Starbucks stores. Of course, this means that you'll probably head to Target in pursuit of a midnight floral Starbucks mug, and end up leaving with a cart full of things that you never even expected to buy.
It's fine, though. I've been there.
Whether you visit your local Starbucks or the location inside your Target store, be sure check out the Starbucks x ban.do collection. Since it's finally available in the United States and Canada, why not try it out? I'm telling you: It'll compliment your PSL perfectly.