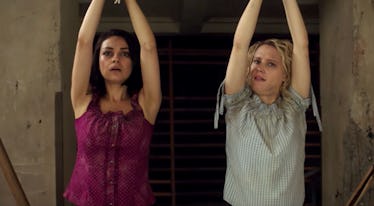 Mila Kunis & Kate McKinnon Are Hilariously Awful Spies In 'The Spy Who Dumped Me' Trailer
Lionsgate Movies
Doesn't it suck when you get dumped... and then find out that you are at being targeted by a group of criminal assassins? What a bummer, right? That's exactly what happens to Mila Kunis in her new action comedy The Spy Who Dumped Me, which just dropped its first trailer and already looks like it is going to be the funniest movie of the year. The first The Spy Who Dumped Me trailer shows Kunis and Kate McKinnon playing best friends who are suddenly forced to become secret agents... and are hilariously terrible at their dangerous new gig.
The Spy Who Dumped Me stars Mila Kunis and Kate McKinnon as best friends Audrey and Morgan (respectively), who unexpectedly find themselves thrust into an international espionage operation after Audrey's ex-boyfriend (played by Justin Theroux) reveals that he is in the CIA and now his deadly enemies are also after them. The trailer shows Audrey and Morgan freaking out over killing someone, selling out each other's secrets after being tortured by a sadistic gymnast, and failing to steal a car after both realizing they don't know how to operate a stick shift. Check out the full trailer for The Spy Who Dumped Me below:
The idea for the big, summer, blockbuster comedy was "Broad City meets Bourne," director Susanna Fogel told Entertainment Weekly. Fogel said that she wanted to make a big, action-packed spy movie that starred real, normal women that would remind viewers of their own friends, rather than the superhuman-seeming male characters that usually helm spy movies like James Bond and Jason Bourne.
Both Mila Kunis and Kate McKinnon are veterans of major summer comedy movies at this point. Kunis stars in the raunchy Bad Moms franchise of films, and McKinnon's breakout on Saturday Night Live has launched her into the Ghostbusters remake and last year's ensemble comedy Rough Night. Though they have been starring in similar movies recently, Kunis and McKinnon had not worked together before. McKinnon has worked with director Susanna Fogel once before in the 2014 romantic comedy Life Partners, and was the first actor cast in the new movie. Kunis was later cast after Fogel met her and guessed that she and McKinnon would have a great comedic rapport.
The Spy Who Dumped Me also stars Justin Theroux as the titular spy, who ends his relationship with Audrey by ghosting her and then reveals he is a CIA agent. Outlander star Sam Heughan also stars as a fellow CIA agent named Sebastian Henshaw, who appears to help Audrey and Morgan avoid the assassins that are after them. Also cast in undisclosed roles are The Daily Show star Hasan Minhaj and The X-File's Agent Scully herself, Gillian Anderson.
Female-led action comedies have exploded into a major summer blockbuster staple genre in recent years, partially thanks to the success of recent Paul Feig films such as The Heat and Ghostbusters. But obviously, the movie that The Spy Who Dumped Me seems to share the most in common with is Feig's 2015 film Spy, which starred his frequent collaborator Melissa McCarthy as a CIA office worker who ventures out on a dangerous espionage adventure of her own when a secret agent gets captured. The main difference between the premises of Spy and The Spy Who Dumped Me, it seems, is that McCarthy's character was a trained secret agent who had just not gotten to show off her skills, whereas Mila Kunis and Kate McKinnon's characters in the new movie have absolutely no spy training at all.
The Spy Who Dumped Me will slide into movie theaters worldwide this summer, on Aug. 3, 2018.