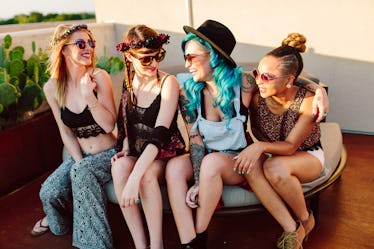 The Spring Break Bucket List Item You Should Try, According To Your Zodiac Sign
The best time of the year is quickly approaching: You'll finally have a chance to escape the dreadful snowy tundra that is winter, and enjoy some well-deserved R&R in a (hopefully) sunny paradise without a worry in the world. You guessed it, fam — spring break is right around the corner. And no matter where you're going or what elaborate excursions you've booked with your friends, it's pretty much essential to have at least one spring break bucket list item that you absolutely have to check off before you return home from vacation.
You and your friends might be ambitious as hell, drafting bucket lists for your vacay that are basically as long as the Declaration of Independence, but TBH, there's only so much you can do in the span of a single week. To guarantee you'll make the most of your spring break, you're better off narrowing your wishlist down to a single bucket list item. And what better way to figure out that one special item than by tapping into the unique characteristics of your zodiac sign?
Between soaking up all the sun rays and sipping on fruity margs, make some time to try a zodiac-based spring break bucket list item that will make this year's vacation the best one yet.