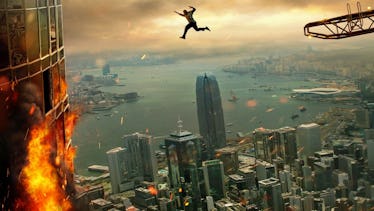 The 'Skyscraper' Ratings Are In & Unfortunately, They're Not Very High
Universal Pictures
If it's the middle of the summer, it's time once again for a silly disaster film starring everyone's favorite Jabroni-beating, catastrophe-surviving, pie-eating, trail-blazing, eyebrow-raising, heart-stopping, elbow-dropping, electrifying man in all of movie-making entertainment, Dwayne "The Rock" Johnson. This year, he's clocking in with a Towering Inferno looking knock-off, which in true 1970s fashion is entitled Skyscraper, much like films like Airport!, except without the exclamation point. (The Rock wouldn't want to be that over the top.) Unfortunately, Skyscraper's ratings are in, and this film is looking less like it's setting a City On Fire and more like a crash from The Hindenburg.
Mr. The Rock may be one of the most dependable names to open a film in the latter half of the second decade of the 21st century, but this movie will probably not be one of them. With a full complement of critics reporting in, the Tomatometer stands at a dismal splat of 51% rotten and falling.
According to Rotten Tomatoes' critical consensus, the best reviewers can muster for it is "mildly diverting." I suppose this is better than reviews which judge it "two hours of air conditioning if yours is broken," but not by much.
Check out the trailer:
Reviews are not exactly kind either. The money quote from The AV Club on the film reads as follows:
It feels like a dumbed-down, poor man's Die Hard, despite costing a lot more to make.
One problem? The plot, in which Mr. The Rock finds himself trying to figure out which of his two kids to rescue. Audiences know perfectly well for this film to succeed he'll have to find a way to save both. As Rolling Stone puts it:
This is the sort of thing that requires classic Rock, not an experimental but-what-if-I-maybe-acted-like-this-was-Sophie's-Choice? Rock.
But the best reviews are the ones full of backhanded compliments putting down other failures of Rock-movie-fare to lift up the current one before audiences today. As Vulture sees it:
Skyscraper is one of the stupidest movies I've seen since San Andreas, but I enjoyed it a great deal - more than San Andreas, certainly, as well as Rampage and Baywatch and most other Dwayne Johnson pictures.
Even Jumanji? C'mon, at least Jumanji: Welcome to the Jungle was rated fresh.
As for this weekend's box office predictions, Skyscraper isn't looking so hot. The early long-range estimates pegged the film as bringing in $40-60 million on opening weekend. This assumed Mr. The Rock's Q-rating and sheer force of magnetism would draw audiences to the theaters despite the patently absurd sight of a man jumping from a crane towards a skyscraper with what physics could only describe as an obvious pavement-bound trajectory.
But since then people seem to have come to their senses. According to The Hollywood Reporter:
Prerelease tracking shows Hotel Transylvania 3 debuting in the $38 million-$45 million range, while Skyscraper is projected to gross $33 million to $40 million. Tracking, however, is hardly a science, and Johnson remains a star with sway. He's also prolific; Skyscraper is his fourth movie in a little over year after Baywatch, Jumanji: Welcome to the Jungle and Rampage. The respective studios backing the two new titles are being more conservative in their estimates. Sony insiders suggest $35 million for Hotel Transylvania 3, while Legendary/Universal are predicting $30 million for Skyscraper, which opens two years after another Johnson disaster pic, San Andreas, debuted to $54 million for New Line.
Even if Skyscraper manages to beat Hotel Transylvania's third installment, this is currently looking like his lowest opening since Baywatch. At least next year he'll be back in Fast and Furious mode where he does far better and can drive away from all this.
Skyscraper opens Friday, July 13, 2018.