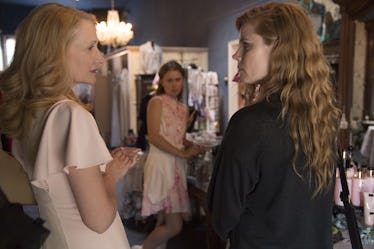 Next Week's 'Sharp Objects' Episode Trailer Shows The Intensity Of Wind Gap's Calhoun Day
HBO
This past week's episode of Sharp Objects was difficult for Camille, as new pieces of the puzzle of Natalie Keene and Ann Nash's murders began to coalesce. Detective Willis has a theory the girl's hangout, an old shed which Camille has terrible memories of, might have been a target the killer used to stalk his prey. But this week it seems like everyone is taking a break from the case, as Camille's mother, Adora, forces Calhoun Day to go on as scheduled, rain, shine or bloodshed. The Sharp Objects Episode 5 trailer suggests perhaps the police chief should have pushed a little harder to cancel.
Calhoun Day, for the record, suggests the town is celebrating John C. Calhoun, who was vice president under Andrew Jackson. He resigned before his term was up to push a pro-slavery agenda, and is generally accepted as the man who put the country on the path to Civil War.
The HBO-provided synopsis for this coming week's episode is as follows:
Despite a potential serial killer on the loose in the community, Wind Gap residents gather for Calhoun Day, an annual southern-pride festival hosted by Adora on the grounds of her house. As Amma and her friends act out a traditional play depicting the sacrifices made by the wife of a Confederate soldier, Adora shares confidences with Richard that may impact his relationship with Camille.
Here's the trailer:
While the plot may revolve around allowing the townspeople on the grounds of the Crellin estate, for Camille, the timing seems like it couldn't be worse. Her article has been published and "gone viral" across town. Those depicted in the story are not pleased with how they were presented, especially John Keene's controlling girlfriend, Ashley.
But Camille isn't the only investigator having problems with a suspect. Bob Nash, Ann's father, the other primary suspect, has had enough of Detective Willis (or "Richard," as the synopsis calls him) following him around town. While Ashley looks like she'd slice Camille to ribbons with words, Bob Nash looks like he will merely punch Richard's lights out. Either way, I don't think Calhoun Day will end well for anyone involved.
As for what Adora is going to tell Richard about Camille, it's doubtful she's going to give him the dirt about her daughter's cutting problem or Camille's trips to rehab, or even how far gone an alcoholic she is. Instead, my guess is Adora will lean into the teen sex aspect. Adora will probably think herself as sabotaging Camille's chances by revealing her daughter's reputation with men, when in reality she's admitting to Willis how badly Camille was abused by the men in Wind Gap, and why she ran so far away as soon as she could.
If you or someone you know is considering self-harm or experiencing suicidal thoughts, call the National Suicide Prevention Hotline at 1-800-273-8255 or text HOME to the Crisis Text Line at 741741 or the Substance Abuse and Mental Health Services Administration (SAMHSA) at 1-800-662-HELP (4357).