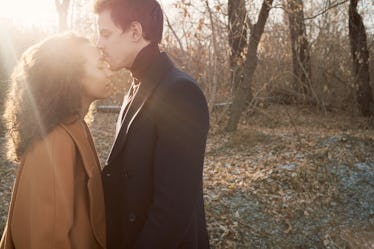 This Week's Full Moon In Aries Will Challenge Your Love Life, So Be Prepared
It's that time of the month again. When a full moon arrives, it's bound to be a period of emotional mayhem and transformative experiences. At this climactic point in the lunar cycle, internal energy surges outward, bearing complicated truths and oppositional feelings. For as unspeakably beautiful as a full moon radiating its pearlescent glow may be, let's not forget that she's filled with sharp edges. And, if you want proof that la luna is capable of changing everything, look no further than the way the September 2018 full moon will affect your relationships.
Because relationships are tied together through passion, love, anger, and every emotion in the spectrum, it's inevitable that the full moon has an immense impact on our ability to navigate intimacy. And, while all full moons are powerful, the one taking place on September 24, 2018 will be an especially challenging one for your love life and relationships in general. Occurring in feisty, aggressive, and impulsive Aries, a zodiac sign that's known for overreacting, this full moon will put your relationships to the test.
However, if you learn from what this lunation has to teach you, it could also strengthen your bond beyond what you thought possible. Do your best to remain empathetic and maintain self-respect throughout conflicts and watch your love blossom.
Fear Could Get In The Way Of Your Trust
When the full moon rises, it will form a t-square with Saturn in no nonsense Capricorn. This is one of the most challenging aspects in all of astrology and this one is capable of making you feel isolated, misunderstood, and alone with your feelings. Because distance can grow between two people when Saturn's impenetrable walls are surrounding each of their hearts, fear may prevent you from making a meaningful connection with some you love.
However, Saturn doesn't cause these issues all by himself. The cosmos work with whatever energy you present them with, and if you've long been dealing with feelings of disconnection in your relationship, the full Aries moon will simply be a breaking point. And boy, can it break when the drastic, argumentative, and passionate sign of Aries is involved.
Deep-seated Issues Will Be Harder To Avoid
Saturn is not the only planet putting a dramatic spin on our upcoming full moon. Forming a conjunction with Chiron, ruler of you're deepest insecurities and most painful memories, this Aries full moon will also reveal a darker layer of sensitivity. Most relationships have deep-seated problems that have never been resolved. You spend the majority of your time together pretending that these problems don't exist, even though the emotional wounds still reopen from time to time. Because Chiron is capable of causing difficult topics to resurface, you could find yourself rehashing issues from the past.
However, Chiron rules over more than your weaknesses. In fact, Chiron simultaneously rules over your greatest strength. In life, overcoming obstacles is the only way you'll ever grow. Because Chiron contains your obstacles, it provides you with a road map to freedom. As long as you listen to what your gut is telling you, you'll discover how to save your relationship, and perhaps, even more importantly, how to save yourself.
However, Love Will Help You Overcome Anything
Although this full moon in Aries is rife with difficult energy, it's also not completely devoid of positive influence. Forming a harmonious sextile with Mars, ruler of passion and ambition, people will be more willing to work through problems and stay loyal to a relationship for the long haul. Even though your conflicts may appear insurmountable, communication and hard-work can make a world of a difference. Especially because Saturn will also be forming a steadying trine with Uranus, ruler of rebellion and erratic change, there's hope than any potential relationship problems won't result in slammed doors and dramatic goodbyes.