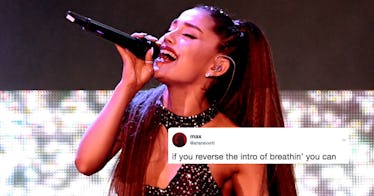 Ariana Grande Fans Think They Found A Meaningful Message Hidden In One Of Her Songs
Kevin Winter/Getty Images Entertainment/Getty Images
You guys, you guys, YOU GUYS! Stop whatever you are doing right now, because something big is going down in one of Ariana Grande's new songs. Arianators think they have uncovered a new hidden missive in the intro to one of the pop star's tunes from her recent album, Sweetener, and OMG I am seriously freaking out about it. Because the secret message in Ariana Grande's "Breathin'" that her fans believe they discovered is apparently a tribute to someone who's so important in Ari's life, and the whole thing is just so sad and touching that I can't even deal.
Here's the story: At the start of "Breathin'" — a song which details the singer's struggles with anxiety — there's a short audio clip that features a bunch of incoherent, muddled-up words. Some of Grande's more intuitive fans somehow figured out that if you reverse the track, you can actually hear a man's voice saying: "Tonight is your special night. Do something magical."
Pretty cool, right? I mean, I've been a huge fan of reversed lyrics ever since I first realized Missy Elliott did just that with the line, "I put my thing down, flip it and reverse it" in the chorus of her 2002 hit "Work It," so I am totally here for this from Ariana.
Listen to the reversed clip from the song for yourself and see what you think:
You hear it, right? Now here's where things get REALLY emotional and amazing: According to Ari's fans, the man behind the backward missive is the singer's late grandfather, Frank Grande, who died of cancer back in 2014.
Girl, same.
Of course, the "God Is A Woman" singer hasn't confirmed anything yet, but putting her grandfather's inspirational words on her new album just makes so much sense, since Frank was pretty much his granddaughter's biggest fan.
Check out this tribute Ari posted on her Instagram account on the four-year anniversary of his passing just one month ago:
This is literally the sweetest thing ever. Like, she called her grandfather her best friend, you guys!
Also, this wouldn't be the first time Grande's bestie turned up on one of her tracks. At the end of her song "Daydreamin", from her 2013 album Yours Truly, both of Ari's grandparents show up at the end to tell the story of how they fell in love.
Annnnd now I'm just over here catching all the feels.
The singer first shared the news of her grandfather's passing with a series of heartfelt tweets back on July 23, 2014.
"We did lose my favorite person to ever exist yesterday, my grandpa," she wrote. "My heart hurts so much. It's beyond broken, but I got to hold his hand and watch him find his peace. This is the hardest thing imaginable but I'm so grateful that I got to spend this time with him and my family, taking care of him and loving him."
Aw, these tweets make my heart hurt. I really hope it is Grandpa Frank's voice on "Breathin'" because that really would be something so magical.