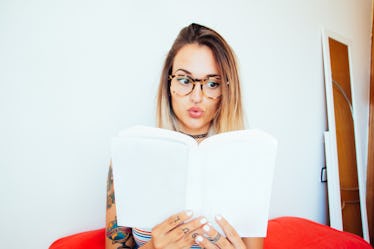 7 Uh-Oh Moments Every Sarcastic Girl Has Found Herself In At Least Once
If every time you open your mouth, your friends are either laughing hysterically on the floor, or claiming they don't know you — you're the sarcastic girl in the friend crew (and proud of it, too). Sarcasm is one quality that many people have mixed feelings about, which is why the sarcastic girl has found herself in these awkward, uh-oh moments more than once.
There's no secret society for people who are sarcastic. They're spread far and wide, slaying their "who the heck cares" wings in a location near you. Most people aren't trying to be sarcastic; it's simply second nature to them. The sarcastic girl in the friend crew isn't afraid to say it like it is, and she's used to the heat she receives for some of her comments.
The adventures of a sarcastic girl are hilarious to look back on, but when they're actually unfolding, she's not laughing. It's sort of the curse of having the gift of sarcasm. It can't always benefit you, because so many things in life come with downsides, too. If you're the sarcastic girl, you've likely experienced these uh-oh moments at least once along your path of hilarious and extremely witty candor.