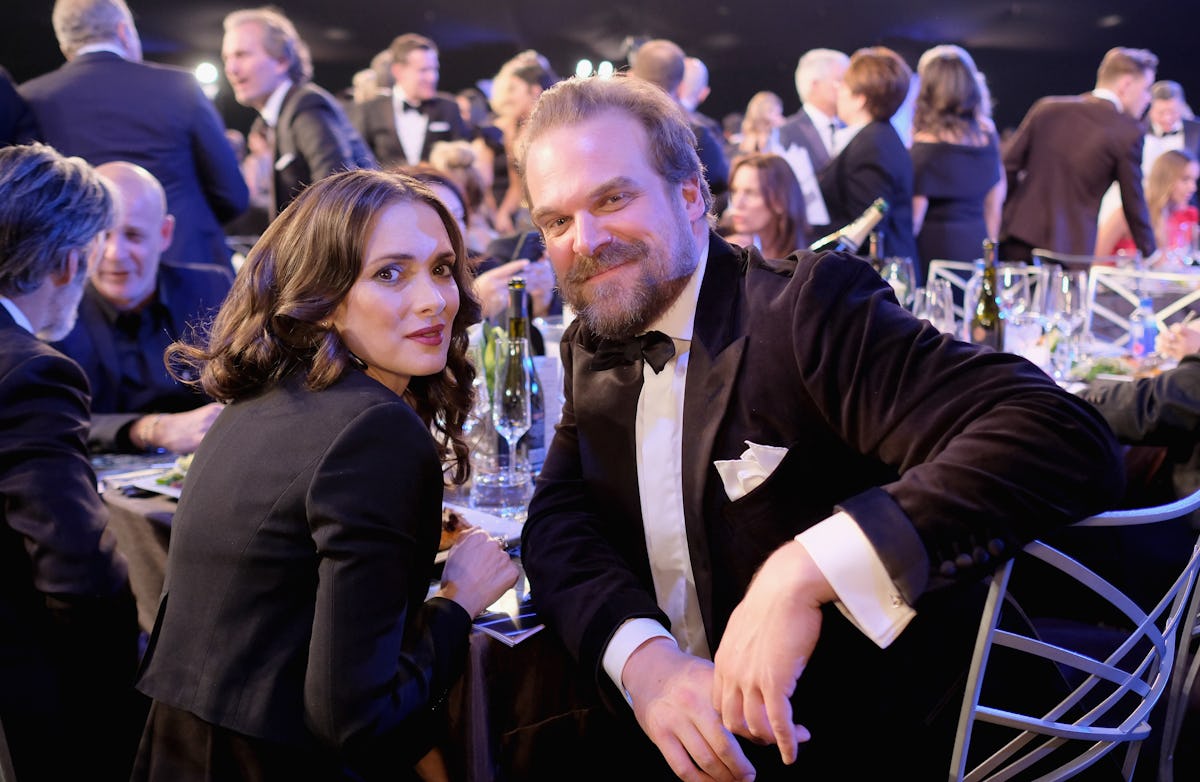 Hopper From 'Stranger Things' Was Snubbed At The SAG Awards & Twitter Is Not Happy
Dimitrios Kambouris/Getty Images Entertainment/Getty Images
Stranger Things may have come up empty handed at the Golden Globes, but that didn't mean the show's chances at 2018 award show glory were over. Enter: The SAG Awards. The award show where the acting portion of a project is the only thing recognized has shown love to Stranger Things in the past — the show picked up the huge achievement for Outstanding Performance By an Ensemble in a Drama Series in 2017. How many SAG Awards did Stranger Things win in 2018? The Netflix hit isn't exactly cleaning up this year, despite its huge showing in the nominations.
Stranger Things leads the TV pack when it comes to number of nominations earned, garnering four nods alongside fellow Netflix series GLOW and HBO miniseries Big Little Lies. That's quite the feat in such a stacked year of remarkable small screen performances, so of course we were all curious to see if it would go the distance in its sophomore season.
David Harbour, aka everyone's favorite small town chief Jim Hopper, was nominated for Outstanding Performance by a Male Actor in a Drama Series. His steep competition included Ozark's Jason Bateman, This Is Us' Sterling K. Brown, Better Call Saul's Bob Odenkirk, and Game of Thrones Peter Dinklage. Last year, John Lithgow won for his turn in The Crown and Harbour wasn't even nominated. Did he pull off a win? Alas, Jim Hopper left trophy-less because the great Sterling K. Brown cannot be beat.
How did Twitter react? Not well. Not well, indeed.
Millie Bobby Brown was the sole young actor nominated independently from the ensemble — the only Eleven we could ever imagine was recognized in the Outstanding Performance by a Female Actor in a Drama Series category. She faced Laura Linney of Ozark, Claire Foy of The Crown, Robin Wright of House of Cards, and Elisabeth Moss of The Handmaid's Tale. Millie expressed her gratitude on Instagram upon the announcement of her nomination, writing,
Screen Actors Guild! Thank you SO much for recognizing me and our cast for the second year in a row! This means the world coming from you, our peers. I am so lucky and honored to have the privilege of playing Eleven - a strong, powerful, badass, strange, wonderful character! Can't wait to celebrate with my Stranger Things family.
Let's face it — it's a pretty major shock that someone in this category could possibly win over the unstoppable Moss this season, so we assumed anyone who did not don an oversized white bonnet for their role should probably put away their speeches. Welp, we were wrong, because Claire Foy dethroned her streak! Sadly, that left Millie without a win.
What about Outstanding Performance by an Ensemble in a Drama Series? You may recall last year's somewhat surprising Stranger Things win. David Harbour's passionate speech? Winona Ryder's facial expressions? Ringing a bell?
Well, this year Stranger Things went up against some heavy-hitters, including the casts of The Crown, The Handmaid's Tale, This Is Us, and Game of Thrones. This Is Us took the huge honor. We can't be too mad at that, but that doesn't mean Twitter isn't.
Let us not forget some of the unsung heroes of the TV world — the stunt ensemble. The SAG Awards makes sure to honor them with Outstanding Action Performance by a Stunt Ensemble in a Television Series. Game of Thrones, GLOW, The Walking Dead, Homeland, and Stranger Things are all nominees, though GOT has locked down a win every year since 2011. To be fair, those GLOW maneuvers look mighty difficult to pull off (we're hurting just watching), so this one was anyone's game. OK, not really. Game of Thrones got this one again...
So, it looks like Stranger Things was officially snubbed at this year's SAG Awards. Better luck next year, people of Hawkins. Your fans are certainly rooting for you.