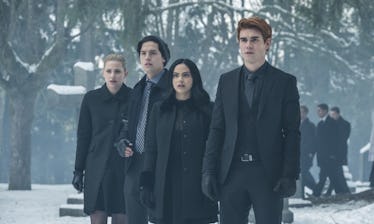 We Finally Know When 'Riverdale' Season 3 Will Premiere & It Can't Come Soon Enough
CW
Rest easy, River Vixens. New episodes of Riverdale are on the way. The CW announced its fall schedule on Thursday, revealing that the Riverdale Season 3 premiere date will be Wednesday, October 10 at 8 p.m. ET. The teen drama hit was renewed back in April (duh) and concluded its second season in May with a twisted cliffhanger of an episode that left fans on the edge of their sofas. There's
So... Cheryl's an official serpent, Archie's in big trouble with the law, Polly's going on about some "friend," Hermione is the mayor, and Hal is the main Black Hood. Got it. Knowing anything on Riverdale just leads to more questions... Where's Chic at? Is Betty really over her darkness? What's the future of Choni? Will Hiram keep doing shady Hiram-y stuff? More Falice, please? Man, there are a lot of characters with complicated narratives to keep track of. Is this whole Black Hood saga even over? Season 2 stayed pretty true to horror, mystery, and murder — the killer's identity and targets were at the center of the story. The town of Riverdale certainly isn't all milkshakes and make-outs, but viewers obviously can't get enough of that side of the series too.
Riverdale is gearing up to shoot its upcoming season in Vancouver and details about what's to come have already been making the rounds.
Season 3 of Riverdale seems dead set on continuing to focus on Archie's issues with Hiram. Showrunner Robert Aguirre-Sacasa revealed to The Hollywood Reporter following last month's finale, teasing,
Archie was sort of intoxicated by Hiram — his power and the way he moves through the world and his ruthless ideals. Archie kind of came back to the good guys' side by the end of the season, but there are consequences for what he's done this season. He and Hiram are squaring off, so I think that will be one of the main conflicts of season three, for sure.
The first and second seasons of Riverdale hooked audiences in not just because teen dramas are addictive, but because they were full of intrigue and OMG-inducing moments — many of which were related to a dominant whodunnit. Season 3 appears to run with its "genre" theme, according to Aguirre-Sacasa. He added:
Yes, in season one, we did a murder mystery, and in season two, we did a serial killer in a small town and The Godfather in a small town. Season three will have a high genre element like that. That's what the show is. It's not just about the Archie characters. It's the Archie characters put into a specific genre, and we see how they relate and survive and adapt.
I'm guessing the genre won't pivot to slapstick comedy or medieval fantasy, but I for one am down with more musical theater. As fans know by now, productions at Riverdale High spawn more drama than all of Broadway and the West End combined.
As for Riverdalian relationships, expect more Choni on the horizon and keep hopin' for further Falice moments.
"I really do want to see her finally get with FP, because that's a big thing. They have a lot of history together, so I'd like to see that," Madchen Amick told The Hollywood Reporter.
Rumors that Jughead's mom and sis will finally be making appearances have also been swirling. Skeet Ulrich previously mentioned he would be down for former Scream co-star Neve Campbell in the role, but recent speculation has pointed to Charmed and PLL's Holly Marie Combs as a possible contender.
Ah, so much to look forward to!
Riverdale returns to the CW on Wednesday, October 10, 2018.