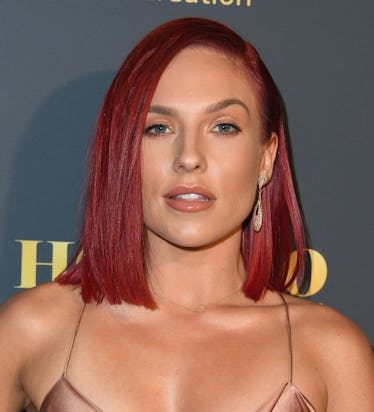 Red Velvet Hair Is The Latest Hair Color Trend & It's More Decadent Than The Dessert Itself
Jon Kopaloff/Getty Images Entertainment/Getty Images
Hair colors with names that make your mouth water are the opposite of rarities these days. Vanilla chai, cold brew, red wine, blackberry — they're all monikers for cool and current dye jobs. But the red velvet hair color trend, which is beyond perfect for the holidays, might have them all beat in terms of deliciousness, and not just because it references a particularly indulgent dessert.
Thanks to the strange combination of vinegar, buttermilk, and cocoa powder that constitute the bulk of the cake, and the cream cheese frosting that tops it off, red velvet cake is one of the most unique and addictive sweets around. It's rich without being overpowering, has a sophisticated flavor, and is a feast for the eyes to boot. Rich, sophisticated, a feast for the eyes — these are all terms that should describe a good hair color, too, so it makes sense that the dessert would be transformed into just that.
Burgundy or maroon might be the best singular words to describe the red velvet color trend, but, much like a good cake, it's got more layers than one. It's auburn with a twist, cranberry with a dark side. And as Colleen Flaherty, master colorist and educator at Spoke and Weal salon in New York City, told Refinery29, it should be customized for each person who decides to rock it. "People who have warmer undertones should use a red-violet hue to compliment their complexion," she explained. "People with cooler undertones could go either way, red-violet or violet-red." (Violet would result in more purple tones.)
"The first thing you want to do is consult with your colorist, that way you can discuss any questions you might have," Flaherty told Refinery29. "He or she will also be able to evaluate your hair, and give you the best treatment for your hair type. The color will look different on straight and curly hair, so consulting first is important."
If you've got super dark hair or have previously colored it dark, be prepared for some pre-lightening. "For this look, my client was already pre-lightened to blond. So I colored her hair with a red-violet color, which filled her strands with pigment," Flaherty told Refinery29. Following that, she upped the color even more by continuously layering more dye on the red base. "Afterwards, I created the red velvet color by mixing red and violet until it transformed into a shade we agreed upon."
If you're a lighter brunette and haven't previously colored your hair, the process could be a bit different. You might be able to achieve velvety strands without any lightening at all, so long as a darker and moodier color is what you're after. "If the brunette hair is not virgin, I'd apply a formula with red and violet hues, then wash and dry it completely," noted Flaherty. "Then, I would add a direct dye over it by mixing red and violet to create the color my client wants, while also keeping the health of the hair in mind."
Once you're satisfied with your new hue, make sure you take the right steps to preserve it. Cut back on washing too often, add color-safe products to your grooming routine, and don't be afraid to get a gloss every now and again if you see your color fading. Anything it takes to keep it looking sweet.