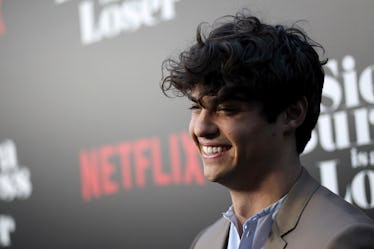 Noah Centineo Almost Quit Acting As A Teenager For The Most Frustrating Reason
Tommaso Boddi/Getty Images Entertainment/Getty Images
With all the success Noah Centineo is enjoying these days, it's hard to imagine there was a time when he wanted to quit acting. But he did. And he opened up about that in a new interview with The Hollywood Reporter. The reason why Noah Centineo almost quit acting is pretty eye-opening and proves just how much the 22-year-old loves his work.
Centineo is gracing one of four covers for THR's 2018 Next Generation issue. In his cover story, he talks about pretty much everything, including the frustrating reason he wanted to give up acting for good. Apparently, Centineo had signed up to shoot a pilot and that stalled his entire career for six months. And it was that experience that made him consider putting acting on hold indefinitely.
"I had this six-month contract that didn't allow me to audition for anything [else]," Centineo told THR. "My purpose was just to act, and you take away someone's purpose and you kind of deteriorate them."
According to THR, Centineo's frustrations were soon alleviated when he landed the role of Jesus Foster on Freeform's The Fosters in 2015. While the show's filming schedule was intense, a 10-week hiatus allowed Centineo to explore other acting jobs as he saw fit. And that, for Centineo, felt like freedom in comparison to what he went through when he shot that pilot.
Aside from his early frustrations with his chosen profession, Centineo also opened up about other things, too. Like how he approaches industry meetings and how that approach has changed since he landed the Netflix hits To All the Boys I've Loved Before and Sierra Burgess Is A Loser. Initially, his approach to industry introductions was kind of a dud.
"I'm sitting down in a room with people who don't know me," he recalled. "They just were like, 'So, where you from?' And I was like, 'F**kin' Florida, man. Where are you from?'"
Over time, he modified how he introduced himself and now it goes like this: "Hi, I'm Noah. You don't know who I am [but] I have two films coming out. If you want to work together, I'd love to read a script. Let me know."
So, what Centineo is showing here in this interview with THR is that he's growing more savvy about his industry every single day. He's so savvy, in fact, that he's basically pitching himself to any and every industry person out there with this interview. But there's a reason why Centineo is taking that approach. While his success so far is amazing, he yearns to do, and be, much more than he currently is.
"Everything that I'm doing right now, everything that I have done or everything I have lined up are stepping stones," he told THR. "I'm not anywhere near where I want to be."
It sounds like Centineo has a plan in mind, and that plan includes achieving all his acting dreams. He's well on his way, it seems, if 2018 is any indicator of what this guy can do. He'll be ticking things off his acting bucket list in no time. I'm sure of it!